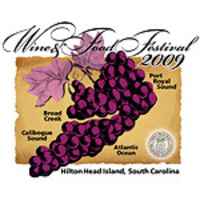 Great Chefs of the South
Hilton Head Island, SC (PRWEB) January 14, 2009
Hilton Head Island eagerly awaits the start of the 2009 Hilton Head Food & Wine Festival. This signature event features the exquisite culinary delights from the island's nationally recognized chefs paired with over 1,500 wines from across the globe.
The festival officially begins on January 30, 2009 with the Wine 101 and Festival Orientation, and continues with the celebratory kick-off: "Uncork the Festival". "Uncork the Festival" begins on Wednesday, February 4 with a food and wine tasting at the Aqua Grille & Lounge, the official host restaurant of the event. Tasting begins at 5:30 pm and cost is $35 per person. The "Uncorked" event will also feature collections of local stories celebrating the heritage of Hilton Head Island, presented by the Hilton Head Area Hospitality Association, the official presenter of the 2009 festival. Story presentation will be accented with the uncorking of several special bottles of signature wines.
The International Food Judging & Competition begins February 5 and extends through February 8. The judging event is by invitation only, please visit the Hilton Head Area Hospitality Association for more information.
Open spectator events begin March 12 with the "Great Chefs of the South" seating and continue with a public wine and food tasting on March 14. For more event details, tickets and a full schedule of events, visit the Hilton Head Area Hospitality Association website at hiltonheadhospitality.org.
Guests searching for the perfect Hilton Head Island vacation rental to compliment their culinary escape need look no further than ResortQuest Hilton Head Island. ResortQuest Hilton Head Island is an official sponsor of the 2009 Food & Wine Festival and is offering a full selection of discount Food & Wine Festival lodging packages and vacation rental accommodations throughout Hilton Head Island during the event. Guests can enjoy 3 nights lodging in a 2 bedroom condominium or villa, four adult tickets to the March 14 outdoor tasting, free daily tennis and free DVD rentals from as low as $160 a per person* (restrictions apply). To claim this offer, visit the ResortQuest Hilton Head Island lodging website or contact a reservations specialist at 800.875.8726 and mention promotion code INT 8WP.
About ResortQuest:
ResortQuest, one of the nation's leading vacation rentals and hospitality and resort real estate companies, provides a one-stop resource for vacation bookings in North America's premier resort destinations. ResortQuest is the largest marketer and management company of vacation condominiums and home rentals in the United States, based on a portfolio of over 10,000 vacation rental properties. With the inclusion of Partner Affiliates in North and South America, the Caribbean and Europe, ResortQuest now offers over 50,000 vacation rentals choices in over 100 destinations world-wide.
###