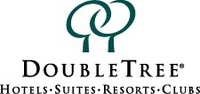 Since the signing of the agreement last year, we've enjoyed a great relationship with Hilton to develop this new flagship Beijing hotel. We believe that the Doubletree by Hilton Beijing will be a strong catalyst for future business development in the west region of Beijing.
BEIJING, China (PRWEB) July 25, 2008
"This exciting hotel opening in Beijing represents the launch of five Doubletree by Hilton hotel locations that are anticipated to welcome the world's travelers in major cities throughout China during the next three years," according to Dave Horton, senior vice president – brand management for Doubletree Hotels.
The Doubletree by Hilton Experience
As one of the upscale hotel brands in the Hilton Family of Hotels, Doubletree by Hilton will introduce business travelers and tourists in China to the brand's longstanding tradition of distinctively designed properties that reflect the destination and surrounding area. Other Doubletree by Hilton characteristic qualities include the warm worldwide welcome of the brand's legendary chocolate chip cookie to every guest at check-in, the rewards of the prestigious Hilton HHonors® loyalty programme and a unique and caring commitment to the communities in which they operate.
Doubletree by Hilton believes in a set of business values that make their hotels a desirable place for employees to work and a satisfying place for travelers to stay. "Our ultimate goal at Doubletree is to create positive, long-lasting memories for our guests so that they will develop a strong emotional bond and loyalty with our brand for their future travel," commented Horton.
According to hotel general manager, Justin Guo, "Hotels across Asia are respected around the world for their outstanding attention to detail and approach to service. The Doubletree by Hilton Beijing will differentiate itself even further through a unique combination of contemporary style and a refreshingly caring and relaxed approach to hospitality and service. Training programs developed by the Doubletree by Hilton brand encourage employees to deliver an exceptional guest experience where guests feel welcomed and appreciated. By bringing this level of energy to our business, we hope that we can help travelers get a little bit more out of their travel experiences. Based on initial feedback and research from both hotel guests and team members, we expect this new approach to hospitality is going to be well received by travelers to Beijing."
Worldwide Brand Expansion In Beijing and Beyond
Doubletree already features a collection of more than 45,000 rooms in more than 190 locations worldwide, predominantly in the United States to date. A rapid worldwide expansion of the Doubletree by Hilton brand has included an aggressive opening plan of upscale, full-service hotels and resorts in Canada, Costa Rica, Peru and the United Kingdom with additional hotels and resorts in Italy, Peru, Russia, Slovakia and Thailand anticipated to open during the next several months.
Horton added, "We are extremely proud to be launching our first Asian Doubletree by Hilton hotel in Beijing, a city that the world is will continue to watch with great excitement long after the upcoming Olympic Games. With a long-term commitment to growing our presence in China, we expect the Doubletree by Hilton Beijing and our upcoming Doubletree by Hilton Huaqiao-Kunshan in November to lead the way in building our guests' perception and emotional affinity for the Doubletree brand as we continue to pursue aggressive hotel development growth in China."
A Refreshing Approach to Hotel Architecture and Design
The exterior and interior design of the newly built Doubletree by Hilton Beijing is centered on the core concept of a drop of water. This concept is unique as it reflects the Chinese association of water with wealth and good fortune. By combining the hotel's exterior water-inspired façade with a meandering stream in a 3000-square-meter roof garden, the Doubletree by Hilton Beijing presents a refreshing oasis for business, pleasure and even the perfect wedding in the heart of the Capital City. An array of unique artwork from around the world has been specifically selected for the interior of the hotel to bring the outside architecture and design influences to the inside, as well.
Contemporary Accommodations
With an ultra modern design bathed in warm gold and earth tones, each of the guest rooms and executive floor accommodations at the Doubletree by Hilton Beijing feature contemporary style, modern conveniences and a range of amenities for in-room comfort. Each of the 30 square meter guestrooms is equipped with workspaces and seating areas, high-speed Internet access, a 32-inch flat panel LCD TV, an iron/ironing board, a personal safe and complimentary in-room coffee and tea service. The hotel also features the brand's signature Sweet Dreams™ by Doubletree sleep experience complete with high-thread-count linens and an abundance of pillows for a great night's sleep. Executive Floor rooms and suites include additional amenities, as well as access to the Executive Club lounge – which serves breakfast every morning and a manager's reception in the afternoon and evening.
A Natural Combination of Indoor and Outdoor Event Facilities
The Doubletree by Hilton Beijing is well positioned to accommodate the Meetings, Incentives, Conferences and Exhibitions segment, with more than 2000 square meters of function space and state-of-art audio-visual and communication technology. The hotel also is putting the finishing touches on the 3000-square-meter rooftop garden featuring trees from around the world and a stream that presents a green oasis in the heart of the city. The combination of these unique indoor and outdoor event facilities are designed to meet every event need, whether guests are planning business meetings and conferences or a scenic outdoor wedding ceremony and reception. An on-site Business Centre provides a variety of essential support services.
Superior Recreation and Delicious Dining Facilities
For meals at the Doubletree by Hilton Beijing, guests can enjoy expertly prepared dishes from around the world served in-room or at the hotel's restaurant - both are available 24 hours a day. The hotel also offers authentic Chinese cuisine in a contemporary setting at the signature Chinese restaurant. Guests can relax with fellow travelers or business associates in the sophisticated Lobby Lounge, or in the private floor Executive Club lounge.
For recreation, Doubletree by Hilton Beijing guests have access to the brand's signature Doubletree Fitness by Precor facility, fitted with state-of-the-art Precor® fitness equipment and four treatment rooms. After a strenuous workout or a leisurely swim in the sparkling indoor rooftop swimming pool, guests can wind down with a whirlpool or sauna.
Hotel Owners Look Forward to Long-Term Doubletree by Hilton Success
Hilton signed a long-term agreement in May 2007 with Beijing Run-Bo Beijing Real Estate Development Co., Ltd. to manage the Doubletree by Hilton Beijing.
Wang Yonghe, president of Beijing Run-Bo Beijing Real Estate Development Co., Ltd. expressed his confidence in the Doubletree by Hilton brand. "Since the signing of the agreement last year, we've enjoyed a great relationship with Hilton to develop this new flagship Beijing hotel. We believe that the Doubletree by Hilton Beijing will be a strong catalyst for future business development in the west region of Beijing."
Special Introductory Summer Offer
For hotels stay between now until 4 August, guests can enjoy the Doubletree by Hilton Beijing experience at a special introductory Doubletree Value rate as low as RMB868 per night (plus 15% service). Advance booking and deposit are required. Additional terms and conditions may apply.
Find Out More About The Doubletree by Hilton Beijing
The Doubletree by Hilton Beijing is located at No 168 Guang An Men Wai Avenue, Beijing, China, 100055. The hotel's telephone number is + 86 (0) 10 6338 1888. For more information or to book reservations at the Doubletree by Hilton Beijing, please visit our website in Chinese at beijing.doubletreebyhilton.com.cn or in English at beijing.doubletree.com. Reservations also can be made through your local travel professional or by phone at 800 820 0600 in China or 800-222-TREE in the U.S. and Canada.
About Doubletree by Hilton Hotels
With a growing collection of contemporary, upscale accommodations in more than 190 gateway cities, metropolitan areas and vacation destinations worldwide, Doubletree by Hilton hotels and resorts are distinctively designed properties that provide true comfort to today's business and leisure travelers. From the millions of delighted hotel guests who are welcomed with the brand's legendary, warm chocolate chip cookies at check-in to the advantages of the award-winning Hilton HHonors® guest reward programme, each Doubletree by Hilton guest receives a satisfying stay wherever their travels take them. To make reservations at any Doubletree by Hilton hotel, travelers may visit our website at http://www.doubletree.com.
Chinese Language Website of Doubletree by HiltonTM Beijing http://www.beijing.doubletreebyhilton.com.cn
About Hilton Hotels Corporation
Hilton Hotels Corporation is the leading global hospitality company, with more than 3,000 hotels and 500,000 rooms in 74 countries and territories, including 135,000 team members worldwide. The company owns, manages or franchises a hotel portfolio of some of the best known and highly regarded brands, including Hilton®, Conrad® Hotels & Resorts, Doubletree®, Embassy Suites Hotels®, Hampton Inn®, Hampton Inn & Suites®, Hilton Garden Inn®, Hilton Grand Vacations™, Homewood Suites by Hilton® and The Waldorf=Astoria Collection™. For more information about our company, please visit http://www.hiltonfamily.com.
Hilton HHonors membership, earning of Points & Miles®, and redemption of points is subject to HHonors Terms and Conditions.
MULTIMEDIA GALLERY http://www.businesswire.com/cgi-bin/mmg.cgi?eid=5739966