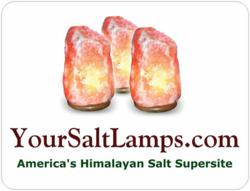 Not a week goes by that we don't receive an email from a customer thanking us for our excellent service and the ease with which they can shop on our site.
Clifton, NJ (PRWEB) January 11, 2012
The popularity of, and demand for, high quality Himalayan Salt Lamps and related Himalayan Salt products has grown tremendously among those with an interest in natural and holistic health. YourSaltLamps.com has met this demand head on, offering consumers the highest quality Himalayan Salt Lamps and related products at discount prices, along with excellent customer service!
Himalayan Salt, which is found deep within the salt caves of the Himalayan Mountains in Pakistan, contains a blend of 84 minerals and trace elements essential to optimal health, and is one of the most sought after products in the world of holistic health. The rich mineral composition is what gives Himalayan Salt its beautiful reddish-orange colors.
Himalayan Salt naturally releases negative ions into the atmosphere, serving as a corrective balance to the flood of toxins and positive ions that fill the environment we inhabit.
Himalayan Salt Lamps are chunks or artistic carvings of Himalayan Salt that have been drilled out to provide a space for a light source to be introduced. Adding a light bulb inside a Himalayan Salt Lamp warms the salt from within and facilitates the release of negative ions from the Himalayan Salt into the surrounding atmosphere, which in turn helps cleanse the air so that we may breathe a little easier!
"There are a number of companies selling Himalayan Salt Lamps and related products," says Jesse Starrick, President of Himalayan Holistic Salts LLC and the owner of YourSaltLamps.com – America's Himalayan Salt Supersite. "However, make no mistake: Not all Himalayan Salt products are created equal. YourSaltLamps.com prides itself on offering customers only the highest quality Himalayan Salt Lamps and Himalayan Salt products available."
Since the launch of YourSaltLamps.com a little over a year ago, the company has continually expanded its selection of products. Most recently, the website features several sections where customers can view and purchase special package deals for even bigger savings on these top quality Himalayan Salt products! In addition to providing added savings, the major aim was to help take the guesswork out of what size Salt Lamps customers should purchase to outfit their homes for maximum ionization efficiency.
For example, a customer who lives in a 3 bedroom home would probably find the "Himalayan Salt Lamp – 3 Bedroom Home Package" a perfect fit! With that package, the customer would receive a mixture of different size Himalayan Salt Lamps (5 in total) that would serve to ionize the 3 bedrooms, living room, and kitchen of their residence.
In addition to the vast selection of top notch Himalayan Salt products, YourSaltLamps.com also goes above and beyond to offer customers service that is second to none. All inquiries, whether through the website, via email, or through voicemail on their toll free 800 number, are responded to within 24 hours.
As Jesse likes to point out, "Not a week goes by that we don't receive an email from a customer thanking us for our excellent service and the ease with which they can shop on our site. It's a great feeling to know that you are developing relationships with customers who will hopefully remain long-term, loyal patrons of your business and refer other friends and family to you based on their satisfaction with both the high quality of the products and the customer care."
About YourSaltLamps.com:
YourSaltLamps.com is an American owned and operated small business, based in Northern New Jersey, in the United States of America. It's President and Owner, Jesse Starrick, is a 28 year old entrepreneur with a lifelong interest in health, nutrition, and fitness.
Typical customers of YourSaltLamps.com who purchase Himalayan Salt Lamps and Himalayan Salt products include those interested in natural or holistic health remedies and products, spa owners and massage therapists, yoga instructors, bodybuilders and fitness enthusiasts, allergy and asthma sufferers, naturopathic or holistic medicine practitioners, individuals who prefer organic or "green" (environmentally friendly/beneficial) foods and products, and anyone else looking to improve their overall health and wellness.
Contact:
Jesse Starrick – President
Himalayan Holistic Salts LLC
YourSaltLamps.com
marketing(at)yoursaltlamps(dot)com
http://www.YourSaltLamps.com
http://www.facebook.com/himalayanholisticsalts
800-797-5694
###