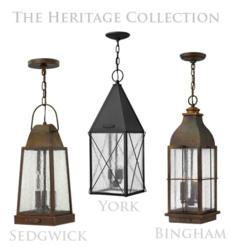 In honor of Hinkley's 90th anniversary, the company has designed and created the Heritage Collection
Chicago, IL (PRWEB) July 25, 2012
Hinkley Lighting is celebrating its 90th anniversary and have come a long way from the founding and growth of the company since 1922, as a small family lighting company. It has evolved into a revered and well-known business that designs and manufactures top-quality, high end light fixtures with unique designs and unrivaled craftsmanship.
Although a recognized company, they still see themselves as a small competitor competing in the industry. In an interview with enlightenmentmag.com, Rick Wiedemer, president of Hinkley Lighting, said recognition of the brand is an important part in keeping the company strong.
"Lighting has not been branded per se, and while it is a huge challenge, we are making that effort with reasonable success," Wiedemer said. "We have always recognized that we are not the largest or the broadest in our industry and that we would have to create a niche to be successful."
In the earlier years at Hinkley, their focus was solely outdoor lighting and eventually expanded to kitchen, bath and chandeliers in order to broaden the company's offerings.
Hinkley Lighting was founded in 1922 by Phil Hinkley and by the mid-1930s Rick Wiedemer's grandfather obtained 100 percent ownership. Hinkley Lighting has since been kept all in the family; Rick Wiedemer's father and two uncles were wholly apart of the business and then Rick himself started working at Hinkley in July 1969. Weidemer has made his children well acquainted and aware of the family business in hopes that they will follow in his footsteps; some of his children are in fact already working for Hinkley now.
In honor of Hinkley's 90th anniversary, the company has designed and created the Heritage Collection, a new and very classically styled collection of outdoor lighting fixtures; according to enlightenment.com, the collection was motivated by the company's rich history, which "pays tribute to the nostalgia of America's and Hinkley's past." There are three families that comprise the Heritage collection: York, Bingham and Sedgwick, each offering a Hinkley outdoor variation of a wall lantern, hanging lantern and post mount variation.
Even in the face of the current economic climate, Hinkley Lighting appears to be flourishing and Wiedemer and the people with Hinkley are making sure this is the case. In Wiedemer's interview with enlightenmentmag.com, he said that he has continuously made relationships in this industry his main concern.
"From the beginning I have always placed a very high priority on personal relationships, many of which have carried us through tougher times," Wiedemer said. "We have carried our stylized cataloging and advertising into our Dallas showroom to solidify our brand. Our showroom was created to be a concept center for our retailers in addition to just displaying new products."
It is definitely a highlight and breakthrough in Hinkley's vibrant history to be celebrating so many years in business. It seems only appropriate that they create an outdoor collection in honor of their 90th anniversary, taking them back to their roots when their focus was just Hinkley outdoor lighting.