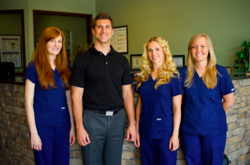 We hope by raising awareness and funds to help treat and prevent men's cancers, we can change the face of men's health, not just during November, but all year.
Franklin, Tennessee (PRWEB) October 25, 2012
Dr. Peter Hinz of Hinz Chiropractic in Tennessee, is joining over 800,000 Mo Bros and Mo Sistas around the world this Movember to raise funds and awareness of men's health issues. Not only will Dr. Hinz grow a mustache in honor of Movember, but anyone who donates $25 or more to the cause during the month of November, will receive a complimentary chiropractic consultation, exam and necessary x-rays.
Movember is a play on the word November. It's the month when men and women join together to raise awareness and help fund men's health issues, specifically prostate and testicular cancer. To participate, men grow a moustache for 30 days. Women support the effort (some even sport fake moustaches).
Men need our support. While men have their own forms of cancer unique to them, they usually don't get as much attention in the press. For example, October is breast cancer awareness month and there are pink ribbons everywhere. Most people know about breast cancer awareness yet few know about Movember. One reason it's so important to support men is that compared to women, men are less likely to schedule an appointment with a doctor or get annual physicals. Already, statistics show that men are likely to die at a younger age than women – the average life expectancy for men is 5 years fewer than women.
Testicular cancer is the most common cancer in American males between the ages of 15 and 35. When it comes to cancer, early detection means better outcomes because most cancers are highly curable if caught in the early stages. Movember aims to increase early detection, diagnosis and effective treatment and ultimately reduce the number of deaths from cancer. IIn 2011 the effort raised $126.3 million USD (see http://us.movember.com for more information).
Dr. Hinz encourages his patients to get involved and to make it fun. Men can join him by growing their own mustache during November, starting off with a clean shave on November 1st. Women can support the men in their lives by complementing their efforts and helping with the cause. Both can donate and get a free exam.
"We are always up for supporting a good cause at Hinz Family Chiropractic, especially causes that encourage a better life for families. We hope by raising awareness and raising funds to help treat and prevent men's cancers, we can help change the face of men's health, not just during November, but all year," he said.
Watch the Hinz Family Chiropractic blog for pictures of Dr. Hinz's new 'stache and please go to our Facebook Page and post pictures of yours. We can't wait to see our patients sport their new look.
About Hinz Family Chiropractic and Acupuncture
Located in Franklin, Tennessee, Hinz Family Chiropractic and Acupuncture emphasizes prevention by improving health and reducing the risk of pain and illnesses before they occur. Most people would rather be healthy to avoid illness, whether associated with neck pain, back pain, sciatica, or other types of pain altogether. For this reason our wellness center is popular. People recognize the benefit of seeking an alternative to traditional medicine – one that will help them achieve and maintain optimal health.
Dr. Hinz is State Licensed and a Certified National Board of Chiropractic Examiners Practitioner. He trained at the Acupuncture Society of America in Kansas City, Missouri.
Hinz Family Chiropractic is located in the Cool Springs area at 3252 Aspen Grove Suite 12, Franklin, Tennessee and may be reached at 1 (615) 503-9900.