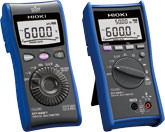 Nagano, Japan (PRWEB) April 03, 2013
Hioki E.E. Corporation will be releasing five new DMMs - the Digital Multimeter DT4250 and DT4220 Series - to meet a wide range of applications ranging from HVAC, DC, R&D to field testing.
Hioki digital multimeters feature a product design that excels in operability and convenience grounded on customer needs and the company's desire to provide customers worldwide with top quality products that are developed and manufactured in Japan.
Last December, Hioki launched the DT4280 Series featuring two DMMs that advanced functionality and designed for use in maintenance inspections of electrical equipment in buildings and manufacturing plants and in R&D work targeting inverters and solar power systems as well as associated maintenance inspections. Today, Hioki is further enhancing its line of digital multimeters by launching two new series--the standard DT4250 Series and the pocket-style DT4220 Series -- so that customers can have the opportunity to select the best instrument for their application needs.
SHARED PRODUCT FEATURES
1. Improved measurement response for increased measurement efficiency
2. Impact-resistant design including a drop-proof enclosure
3. Backlit display to facilitate use in dim locations
DIGITAL MULTIMETER DT4250 SERIES
1. Easy operation for speedy measurement
2. Display multiple measurement parameters at the same time
3. Three models to choose from
4. CATIV 600V design for maximum safety
DIGITAL MULTIMETER DT4220 SERIES
1. Compact pocket design for optimal portability
2. Two models to choose from
3. CATIII 600V design for maximum safety
PRINCIPAL APPLICATIONS

Maintenance inspections of equipment in buildings, manufacturing plants, etc.
Research and development of inverters, solar power systems, fuel cells, and electric vehicles as well as associated maintenance inspections
About HIOKI
Established in 1935, Hioki E.E. Corporation (TSE: 6866) is a recognized world leader in providing consistent delivery of test and measuring instruments through advanced design, manufacturing, and sales and services. By offering over 200 main products characterized by safety and quality while meeting an expansive range of applications, we aim to contribute to the efficiency and value of our customers' work in research and development, production and electrical maintenance. HIOKI products and services are available around the world through our extensive network of subsidiaries and distributors. Information about Hioki is available at http://www.hioki.com.