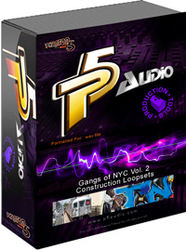 We are celebrating our new website launch with Gangs of NYC Vol. 2, the follow up to one of our greatest hits and biggest sellers of all time
Los Angeles, CA (PRWEB) July 8, 2009
P5Audio.com, an online leader in royalty free Hip Hop beats, music loops, music samples and making beats, announces a new Hip Hop beats product release: Gangs of NYC Volume 2 - available now for instant download.
Gangs of NYC Volume 2 is the long awaited follow-up and continuation to one of P5Audio's most popular -- and best selling -- Hip Hop loop sets, giving music producers more of the preferred Hip Hop beats that are on their Gangs of NYC Volume 1.
"We are celebrating our new website launch with Gangs of NYC Vol. 2, the follow up to one of our greatest hits and biggest sellers of all time," says David Whiteside, President of P5Audio. "These Royalty Free Construction Hip Hop Loop Sets are hand-picked and guaranteed to bring NY style heat to any track!"
Gangs of NYC Volume 2 Hip Hop Loops Sets:

Containing 25 fully produced construction loop sets, featuring over 280 individual music loops total
Making beats with the Gangs of NYC Hip Hop product delivers the signature grit and grime of NYC
Making Hip Hop beats is quick and easy with these loops, as they are provided in 16 bit WAV, REX and Apple Loop
Tempos include: 93, 94, 92, 91, 90, 95, 94, 88, 90, 86, 89 and 82
All parts are separated including all pounding drums, piano riffs, organs, ghetto strings, gangsta synth lines, grime keyboards, sampled guitars, bass lines and effects
In the styles of Jay Z, G-Unit and other NYC heavyweights
For more information on Gangs of NYC Volume 2 Hip Hop Beats and Instant Download:
Contact: David Whiteside
Visit: Gangs of NYC Volume 2 Hip Hop Beats
Phone: 1-888-884-8838
About P5Audio:
P5 Audio, leader in music sample sounds and loops, is committed to delivering professional products for the modern music producer - offering multi track music loops and sample downloads, hip hop samples, music loops and sample sounds for fruity loops, garage band loops, acid pro, rock beats and drum loops - ready to use in all major software sampler formats, as well as all music hardware samplers. 100% Royalty Free and available for Instant Download.
###