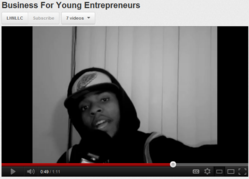 LHN is stretching the limits of their marketing to include Hip Hop Music Videos. The latest project can be enjoyed at http://www.youtube.com/watch?v=qWxJiDlGFOY
Tampa Bay, FL (PRWEB) March 09, 2012
Rap Beats may not be the first thing that comes to mind when thinking about the average home business. But Liberty Health Network (LHN) is quick to point out that they are far from average. For over a decade, LHN has providing Nutritional Supplements, Skin Care, and Internet Services with quality well above the industry average. The company's Internet Marketing, Traiing, and Virtual Office systems are well advanced too.
Now, LHN is stretching the limits of their marketing to include Hip Hop Music Videos. The latest project , a work of up and coming superstar rapper Reyco Rogers (@reycorogerscan) be enjoyed at http://www.youtube.com/watch?v=qWxJiDlGFOY
About Liberty Health Network, LLC
Liberty Health Network is one of the nation's leading Direct and Internet Marketing companies with a state-of-the-art Global Distribution facility in Tampa Bay, Fl. For 12 Years, the Liberty Health Network name has been synonymous with high quality Mortechem-Free Nutritional Supplements, Anti Aging Skin Care, and Internet Web Applications. The statements made on this website have not been evaluated by the Food & Drug Administration. These products are not intended to diagnose, prevent, treat, or cure any disease.
Businesses or Individuals interested in distributing Liberty Products or requiring more information on this topic should contact Chief Operating Officer Russell Bly at (813) 774-8191 or e-mail at office(at)libertyhealthbiz(dot)com.