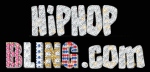 ... [Bling Bling] jewelry has been extremely popular among rap artists over the past decade... [Hip Hop Bling offers Hip Hop Jewelry] for a fraction of the cost of high-dollar hiphop jewelry...
Los Angeles, California (PRWEB) December 05, 2012
Hip Hop Bling sells various Hip Hop Jewelry used by aspiring rap artists, such as iced out jewelry, pendants, disco ball bracelets, and chains. Hip Hop Bling has launched a sweepstakes with Sweepstakes Ninja to give aspiring artists the chance at winning hip hop jewelry. Sweepstakes Ninja helps companies such as Hip Hop Bling connect with consumers through fun and interactive sweepstakes, while giving consumers the chance to win amazing prizes.
Hip Hop Bling is a jewelry wholesaler and retailer in the hip hop jewelry industry. They ship hundreds of orders each day, from their main warehouse to satellite offices and affiliates throughout the USA. Hip Hop Bling has received recognition from celebrity artists such as Soulja Boy, Deebo, JC Jones, and more.
Sweepstakes Ninja gives people the chance to learn about companies such as Hip Hop Bling, while at the same time giving them the chance to win prizes. People may enter the sweepstakes through the sweepstakes draws (http://sweepstakesninja.com/sweepstakesdraw/draw/hip-hop-bling-II/). They are daily entry draws, that not only give people chances at winning amazing prizes, but also introduces unique companies to them. Through the sweepstakes draws, contestants have a chance of winning hip hop jewelry through Hip Hop Bling.
The sweepstakes promotion officially runs until January 1st, 2013. To increase their chances of winning, entrants may share sweepstakes links with friends, family, and through social media. This is a win-win situation for both Hip Hop Bling and the entrant. Entrants increase their chances of winning award winning products, and more people learn about Hip Hop Bling.
About SweepstakesNinja.com
SweepstakesNinja.com designs fun and interactive sweepstakes. The company matches consumers with companies, in a fun and interactive manner. Entrants have the chance of winning amazing prizes. Companies benefit from exposure to their brands, word of mouth advertising, customer loyalty, and long term increases in profit. For more details, visit http://www.sweepstakesninja.com/