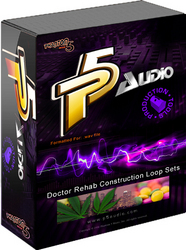 We have received more requests for an Eminem style loop set product than anything else this year
Los Angeles, CA (PRWEB) July 29, 2009
P5Audio.com, online leader in royalty free Hip Hop loops, sample sounds and making beats for music producers, announces their new Hip Hop loops sets product: Doctor Rehab Hip Hop Construction Loop Sets - available now for instant download.
This release features a new Hip Hop loops product. Dr. Rehab is a professionally produced Construction Music Loops Set that pulls influences from the 'greats' like Dr. Dre, Eminem, DJ Quick, Alchemist, G Unit and will give Hip Hop music producers the added edge to their Hip Hop music project. With over 296 individual loops, producers will have all the elements they need to start making Shady style beats.
"We have received more requests for an Eminem style loop set product than anything else this year," states David Whiteside, President of P5Audio. "Artists are craving these dark style beats, and music producers are looking for Eminem style music elements to chop up for their own custom tracks. With Doctor Rehab Hip Hop Loops Sets, we've released a product that even Slim Shady himself would be proud of."
Doctor Rehab Hip Hop Construction Loop Sets:

Features 26 hip hop beats - in the styles of Dr. Dre, The Alchemist, Scott Storch and more - all multi-tracked out for mixing and beat making ease.
The Doctor Rehab Hip Hop Loops Set features signature P5Audio drum sounds.
Features live guitar recorded through Avalon and Neve pre-amps, and captured through Apogee A to D converts.
Each loopset is a full beat that can be mapped out for artists to record over - Producers can also chop the elements and create hundreds of new sounds for their beat making arsenal.
Loops are available in both 24 bit and 16 Bit WAV, REX and Apple Loop formats.
"Judging by his new album 'Relapse', Eminem is still in that dark space that fascinates us all. We kept that in mind when creating these music loops sets," continues Whiteside. "Each of these 26 royalty free multi-track beats has a sinister, almost psychotic edge to it. If you're looking to use music to get something off your chest, buy this product; it's pure therapy!"
For more information on Doctor Rehab Hip Hop Loops Sets and Instant Download:
Contact: David Whiteside
Visit: Doctor Rehab Hip Hop Loops Sets
Phone: 1-888-884-8838
About P5Audio:
P5 Audio, leader in music sample sounds and loops, is committed to delivering professional products for the modern music producer - offering multi track music loops and sample downloads, hip hop samples, music loops and sample sounds for fruity loops, garage band loops, acid pro, rock beats and drum loops - ready to use in all major software sampler formats, as well as all music hardware samplers. 100% Royalty Free and available for Instant Download.
###