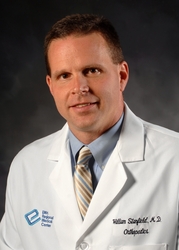 Hip resurfacing allows you much more freedom of movement than total hip replacement. It recreates the normal hip anatomy rather than changing it, which is what a total hip replacement does.
Sheffield Village, Ohio (PRWEB) May 25, 2010
Like many Baby Boomers, Cleveland Fire Battalion Chief Donald Kempf, 55, was suffering from painful hip arthritis, but unwilling to give up his favorite sport--in his case, the Scott Firefighter Combat Challenge®. Then a firefighter colleague told him about hip resurfacing--an alternative to total hip replacement that allows many patients to resume active sports.
According to a study published in March 2010 by the American Journal of Sports Medicine, 82% of hip resurfacing patients felt no restriction while performing sports after their surgery. Since undergoing hip resurfacing, Kempf has won three Scott Firefighter Combat Challenge competitions--two of them within a year of his October 2008 surgery.
"Hip resurfacing allows you much more freedom of movement than total hip replacement," says board-certified orthopedic surgeon William Stanfield, MD, of the Center for Orthopedics in Sheffield Village, Ohio. "It recreates the normal hip anatomy rather than changing it, which is what a total hip replacement does.
"Hip resurfacing reshapes the head of the thighbone or femur and resurfaces it with a cobalt chromium metal cap, much like capping a tooth," Dr. Stanfield explains.
"With a total hip replacement, there are certain things you just can't do because of the risk for dislocation--where the ball pops out of the socket," says Dr. Stanfield, one of the first orthopedic surgeons in the U.S. to perform hip resurfacing. "After hip resurfacing, you don't have those precautions--such as not crossing your legs or not bending your hips past 90 degrees."
"I've always been athletic," says Kempf. "I first competed in the Firefighter Combat Challenge in 1994, and have won my age division in regional competitions almost every year since. But when my left hip started hurting me, I thought my athletic life was done. I spent a whole year in agonizing pain, just limping around.
"I was kind of afraid of surgery," Kempf admits. "My father has had five hip replacements, starting when he was my age. I knew about traditional hip replacement--you can still stay active, but it's more like golf and walking around and things like that. I wasn't quite ready to give up my crazy stuff."
Kempf's "crazy stuff"--the Scott Firefighter Combat Challenge--has been featured on ESPN and Versus. In that competition, pairs of competitors, wearing "full bunker gear" and breathing apparatus, race head-to-head as they simulate the physical demands of firefighting by performing a linked series of five tasks, including climbing a five-story tower, hoisting, chopping, dragging hoses and rescuing a life-sized 175-pound "victim."
"If you perform that the way you should on an actual fire run, you're supposed to pace yourself," says Kempf, who has placed as high as third in the world in the over-40, over-50 and chiefs divisions. "You could probably walk through this and finish it in five to seven minutes. But as the competition grew, the times got down to around two minutes and some of the world-class guys are at about a minute and a half. You get done with this and you pretty much can't even stand up, you can't breathe. People actually catch you at the finish line--they hold you up.
"When I found out about hip resurfacing, and the fact that you could have the procedure and remain athletic, I went for it," says Kempf.
"I told Mr. Kempf before the surgery that I couldn't make him any promises, but hip resurfacing would be the only way he would have a chance to get back to doing the firefighters' competition," Dr. Stanfield recalls. "There wouldn't be any way to do that with a full hip replacement."
"The day of surgery, my hip pain was gone," says Kempf. "I was back to work in six weeks--and back to my training. By the following August, 10 months after surgery, I won the over-50 portion of the Firefighter Combat Challenge in Windsor, Ontario, Canada. A couple of months later, I won in my age group at a competition in Indiana as well."
Kempf also recently won a competition in Milford, Ohio, near Cincinnati. "I'm planning to participate in one or two more regional competitions this summer--and then in the World Championships this November in Myrtle Beach, SC," he says.
"Not everyone is a candidate for hip resurfacing," notes Dr. Stanfield. "It's primarily indicated for younger patients. They don't have to be high-performance athletes--some patients are mechanics who need the freedom of movement to get under cars, or electricians who have to climb around and re-wire air conditioners."
For more information about hip resurfacing, visit http://www.center4orthopedics.com/hip_resurfacing or call the Center for Orthopedics at 440.329.2800.
The Center for Orthopedics, part of EMH Regional Healthcare System, offers the most comprehensive bone and joint care in Cleveland's west side, western Cuyahoga County and Lorain County, Ohio. Complete orthopedic care is available from an expert team of five advance-trained, board-certified orthopedic surgeons at offices in Sheffield Village, Oberlin and Westlake, Ohio. Call 440.329.2800 or visit http://www.center4orthopedics.com
###