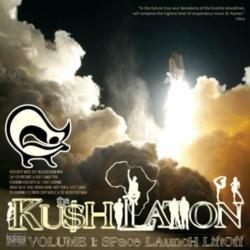 The major labels no longer provide the only avenue for success in this industry. We're going to prove that!
Los Angeles, CA (Vocus/PRWEB) June 07, 2011
Kush Boys, the emerging brand for a demographic they call the "new-age pop culture," has just released their first hip hop compilation album: "Kush Boys Presents…Tha Kushilation Volume 1: Space Launch Liftoff." Hassan Johnson from the TV Show "The Wire" has called the album "a hip hop classic."
This ambitious album is the brainchild of executive producer Jamal Weathers and four seasoned musical artists: Lucky Lamar, Dread Tha Ol' Head, Brotha Rahim and Jeremy Monk aka Baby Paw. Tha Kushilation is now available for sampling and download on iTunes, Amazon, and Napster.
Tha Kushilation contains a blend of hip hop beats ranging from true life tale of life in the streets to instant club classics. The explicit lyrics tell the story of the Kush Boys' lifestyle and entrepreneurial spirit. The artists believe innovation, hard work, tenacity and "friends in high places" can lead to success.
Tracks include "Cut the Check" by Dread, about earning respect and recognition; "Focus" by Lamar, about the entrepreneurial spirit that guides the Kush Boys; and "Gorgeous" by Rahim, about a beautiful head-turner—much like the Kush Girls.
Some of the songs are more personal. "Street Life" by Baby Paw is the story of the artist's roots in Compton and how the urban lifestyle won't let him go. Lamar calls "Do you Know," a song he wrote with Dread, a summery anthem about Washington, DC.
"Kush Boys wanted to showcase seasoned, but still up-and-coming artists," said executive producer and Kush Boys co-founder Jamal Weathers. "The major labels no longer provide the only avenue for success in this industry. We're going to prove that!"
Several successful artists showed their support for this project with tuneful endorsements. The album features an introduction by Diddy and interludes by 2 $hort, Richie Rich and Lil Eazy.
Songwriter and bass player Lucky Lamar composed and arranged most of the songs on the compilation. Lamar is a producer-songwriter-rapper whose music is derived from jazz, blues and hip hop. He creates a new sound, blending his influences into a signature style that's unique and relevant to urban music today.
The album's executive producer Jamal Weathers, a native of Los Angeles and co-founder of Kush Boys Worldwide, brings to Tha Kushilation a diverse professional background. He started acting at age seven, and has starred in a dozen films, including Belly 2, We Own the Night, Shooter, Four Brothers and I Heart Huckabees.
Weathers has also worked with Mark Wahlberg as a reading consultant on numerous films, modeled clothing for leading brands including Nike, Karl Kani, Mecca, and Helly Hansen, and co-managed the musical group Stepchild, which signed with Warner Bros. in 1995. He toured with D'Angelo and Prince with Stepchild.
Music videos are in production for tracks "Gorgeous" and "KB4L!" The video for "Do What It Do," directed by Jackie Long, is currently in post production. Kush Boys music will be featured in episodes of the animation series Master Kush, an animation also being produced by Kush Boys Worldwide, that features the voice talent of Tommy Chong.
For more information about Kush Boys, call (415) 734-8350 or visit them on the web at http://www.kushboys.com.
About Kush Boys Worldwide
Kush Boys Worldwide is a Los Angeles-based company committed to pursuing ventures that benefit a demographic they call the new-age pop culture. Current projects include the online animated series Master Kush; an eco-friendly clothing line for the urban demographic called Kush Couture Lifestyle Apparel (KCLA); an all-natural iced tea made with hemp known as Chronic Ice; the natural male enhancement supplement Sir Rock; and Kush Boys Studios.
# # #