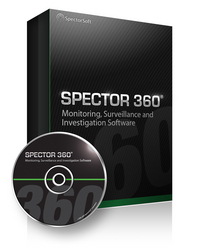 We believe our employees live the same values we teach our patients. Spector 360 gives us that one extra step to show any patient -- from whatever walk of life -- that their records are as secure as those of a famous celebrity.
Vero Beach, FL (Vocus) March 10, 2010
Healthcare facilities and addiction treatment centers are required by law to protect patient confidentiality and meet compliance regulations, while providing the highest levels of patient care possible. This, according to the Hanley Center -- a world-renowned nonprofit alcoholism and addiction treatment center -- was the driving factor for investing in Spector 360 (http://www.Spector360.com ) PC and Internet monitoring software from SpectorSoft Corporation. From day one, the Hanley Center credits Spector 360 for increasing employee productivity, ethics, and accountability for patient confidentiality and record keeping in accordance with HIPAA compliance regulations.
Spector 360 is the most advanced corporate monitoring, surveillance and investigation solution available in the market. Since installing Spector 360 across its entire Windows network, the Hanley Center is able to more quickly pinpoint usage patterns and trends, speed time to resolution when further investigation is warranted, and curb unwanted PC and Internet activity that can lead to larger problems if left unaddressed. Michael Counes, Director of Information Technology, calls Spector 360 "a tremendous resource to ensure Hanley Center is a center of excellence across the board. Because our employees are more productive, the time we recoup is applied to patient care."
By providing complete visibility into everything employees do at the computer and on the Internet, Spector 360 can alert Counes if someone tries to access a proxy server, or attempts to print or save a patient's information to a removable device. It also encourages the staff to keep social networking and email use within acceptable limits. "We believe our employees live the same values we teach our patients," continued Counes. "Spector 360 gives us that one extra step to show any patient -- from whatever walk of life -- that their records are as secure as those of a famous celebrity."
Spector 360 -- The Gold Standard for PC and Internet Monitoring in the Workplace
Spector 360 | 2010 records and archives user activity and stores it for future analysis when needed. It records all web sites visited, emails sent and received, chats and instant messages, keystrokes typed, files transferred, documents printed and applications run. Spector 360 feeds that activity into a database and provides more than 50 built-in reports and unlimited customization for a "bird's eye view" of employee patterns and behavior, with no complicated setup or management required. Counes said he found Spector 360's monitoring capabilities to be a powerful addition to anti-spam, anti-virus, and a complement to what used to be "just filtering and blocking."
"Installation was remarkably easy -- I was monitoring in half an hour," he continued. "Spector 360 has so many built-in reporting tools; I haven't needed to put together one custom report since I've had it. I just trained a staff member and literally logged in, showed them the dashboard, and walked away. The person came back after two hours and said it was the most amazing thing they'd ever seen."
Spector 360's enhanced activity recorders and screen snapshot capabilities continuously work behind the scenes and can be called into action at any time to "rewind and play" what someone did at their desktop, every step of the way. It lessens the burden on IT by eliminating the need to sift through emails or review the browser history to get to the root of an issue. Keyword alerts and more than 30 pre-defined Web filters can be set to block access to specific sites or trigger a red flag when a user's activity may be in direct violation of an internal Internet Acceptable Use Policy (AUP) or compliance regulation like HIPAA, CIPA or Sarbanes-Oxley.
"Spector 360 helps me as far as best practices in IT as well as corporate resources," continued Counes. "I've had nothing but good experiences with the program. I am continually impressed with the depth and breadth of what it can monitor -- all of it available to review with one click of a button. Spector 360 gives you the big picture, then you can drill down to the details, and the drill-down is seamless … just click and play, click and play!"
Spector 360 Pricing and Availability
Spector 360 is available for purchase at http://www.Spector360.com starting at $1,995 for 15 licenses or $2,995 for 25 licenses, and ships with one full year of Premium Maintenance at no additional charge. It supports all major Windows operating systems and comes with MS SQL Server Express or MS SQL Server Standard (for 1,000+ licenses). For more information about the Hanley Center and other Spector 360 customer case studies, visit: http://www.spector360.com/casestudies/index.htm .
About SpectorSoft
SpectorSoft is the recognized leader and pioneer in the PC and Internet monitoring software market. More than 500,000 consumers and 50,000 businesses, government organizations, schools, and law enforcement agencies have purchased SpectorSoft products to help keep kids safe online, and to prevent Internet abuse, data loss, and compliance violations in the workplace. Products include Spector Pro, eBlaster, Spector Pro mac, and eBlaster mac for home and office use; and Spector 360, Spector CNE Investigator, and Spector Server Surveillance Edition for corporate-wide monitoring and reporting. SpectorSoft has earned numerous awards for product excellence and been named five times to Inc. Magazine's List of Fastest Growing Private Companies in the U.S. For more information call (888) 598-2788 or visit http://www.spectorsoft.com . For more information about SpectorSoft's award-winning products for corporate monitoring and surveillance, visit http://www.Spector360.com .
###