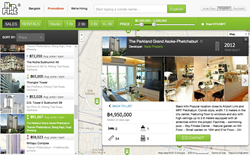 HipFlat aims to be the most consumer-friendly property search website in Southeast Asia.
Bangkok, Thailand (PRWEB) December 24, 2013
HipFlat, Thailand-based online real estate search startup, announced today it has raised US$335,000 from international angel investors. Funding was provided by Crystal Horse Investments and 8capita (both from Singapore), a Thailand-based group of angel investors led by Kris Nalamlieng, and Chang Ng – serial entrepreneur and angel investor from the Netherlands. The oversubscribed funding round was closed back in September, but has just been revealed to the public today.
Over the past 6 months the company has been recording monthly double-digit percentage growth in almost every aspect of its business, including number of searches, user sign-ups, property inquiries and revenue, while its team has grown from 4 to 10 people.
HipFlat aims to be the most consumer-friendly property search website in Southeast Asia. Its key features include:

An easy-to-use map-based search, powered by automated system that collects property listings from agencies, developers, online classifieds and web boards and enhances them with geolocation-related information and real-time market data. Currently people can search over 20,000 active property listings on the platform with 200-300 fresh listing added daily.
Neighbourhood Explorer – a tool that allows a home-buyer to go on a virtual tour and check out available transportation options, shops, schools, restaurants and many other places around any of the 2,000 condominium buildings in Bangkok and Pattaya.
Real-time and historical data such as price trend graphs and rental yields, aimed to help home-buyers make informed investment decisions.
Denis Nemtsev, CEO of HipFlat, said: "Since the website launched we have been receiving a lot of positive feedback from customers who love the ease of use of our map-based search platform and the market data HipFlat provides. Over 30% of the users, who tried HipFlat once, become repeat visitors."
HipFlat is a game-changing service not only for ordinary home-buyers, but for real estate professionals as well. Pongpakorn Thamsubhong, a marketing manager at award-winning real estate development and consulting company AQ Estate said: "During our feasibility study, market research and analysis for a new residential project we often have a choice of up to 50 land plots to acquire. The data on prices, rental yields and existing supply that is available on HipFlat comes in very handy for our decision-making process and saves us a lot of time."
HipFlat's audience reflects current condominium market trends in Thailand: over 90% of inquiries come from Thai nationals, while the rest are from expats. Every district in Thailand's capital are covered with the prices for condos varying from tens of thousands to millions of USD. 33% of the inquiries are for rentals while 66% are from people looking to buy.
The company's revenue comes from property agents who pay for the opportunity to receive inquiries from home-buyers. In return HipFlat guarantees to deliver new customer leads and eliminates the need for prospecting, allowing agents to focus on the essence of property business – helping customers find their new homes.
With its proven business model in place, at its current stage of accelerated growth, HipFlat is now preparing for the next funding round, aiming for expansion to other Southeast Asian countries in 2014.
About HipFlat
HipFlat aims to build the world's best online property search experience, beginning in Thailand. The company was founded in 2012 by experienced entrepreneurs with extensive background in IT and real estate. The company's vision is to provide a transparent, comprehensive source of up-to-date real-time market data to help customers make informed property rental and purchase decisions.