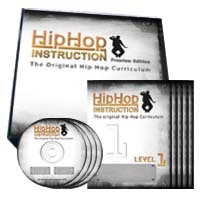 We are not trying to take away anything from street hip hop or from the way it was originally founded. What we are trying to do is create a structured basis so that people everywhere can have a better understanding of how studio hip hop dancing works.
Prairie Du Sac, WI (PRWEB) December 17, 2009
Some dance teachers really want to teach Hip Hop dancing, but either don't know where to start or are tired of coming up with routines that seem to look similar from semester to semester. The students seem to be moving up from beginner to advanced but there's no concrete way to determine if they are actually becoming great dancers. It's often hard to make that distinction unless there is a structure or measurable improvement of some kind...and now there is, with the new Hip Hop Instruction Curriculum.
Sometimes dance teachers cannot decipher whether their students are actually getting better because they see them all the time. It's similar to hair growing, it's really hard notice how long someone's hair is getting unless they get it cut or someone sees a picture of them with shorter hair. Staying on this metaphor for a minute…let's say Jenny is talking on the phone with her best friend Mark and she asks him how long his hair is immediately after a hair cut. Mark might say "Not sure…um, maybe medium length." At this point there's no telling how long Mark's hair actually is. So Jenny gets smart and sends Mark five pictures, each with a person of a different hair cut length. As Mark compares the pictures directly, he can now say that he has medium-short hair like the person in picture #3 and both of them are on the exact same page. Time to relate this story to hip hop dancing…
If someone were to ask a studio owner how good their dancers/students are, could they give an honest and unbiast answer? The studio owner definitely could NOT do that without something to directly compare their dancers to. REVELATION: A studio could have a million trophies in their window and still have a studio full of average dancers! What if the studio had videos of someone dancing at 5 different levels? Now they could compare their dancers to the levels displayed in the dance videos and be more accurate with their assessment. Often dance studios send their students to hip hop, jazz, or cheer competitions at a level that is unsuitable for their dancer or dance team. Maybe a studio wants to bring someone in for a master class and the master class teacher asks what type of material to prepare. If the studio tells the master class teacher that they have the most amazing dancers, the teacher would probably prepare a level 5 routine. Imagine how frustrating it would be to the students and to the master class teacher if in reality the studio only contained level 3 dancers that couldn't follow along. Look at the audition of "So You Think You Can Dance" for example. There are hundreds of contestants that have no accurate assessment of how bad they actually are.
The solution is a new structured system in which dance teachers can teach students how to hip hop dance in a 5-level goal oriented program. Currently the curriculum is very popular among studios & universities that don't offer hip hop dancing because it also teaches teachers how to hip hop dance. The main objective of course is to help dancers reach their dancing goals by becoming as good as they want to be. If a student wants to become a music video dancer, then all they have to do is get to the point where the level 5 steps seem easy. Only then will they have 100% confidence in their dancing when they transition into the professional world or when they tryout for something like "So You Think You Can Dance". Likewise, if a student just wants some dance moves for the club (which occurs a lot), a teacher would suggest that they get to level 3 and then they would have some really fun moves to show off at the club.
The new Hip Hop Instruction curriculum will give students/dancers structure and goals behind their hip hop dancing. Will anyone argue against the fact that goals will keep students dancing for longer periods of time? If not, Hip Hop Instruction believes that the Hip Hop Instruction Premium Edition Curriculum is currently the only way to teach dancers how to Hip Hop dance and get really good. Not only will students/dancers feel a sense of real accomplishment, but their teacher will also be able to accurately see comparable results. Visit http://www.hiphopinstruction.com
-Written by Kevin Andrews, creator of Hip Hop Instruction to introduce how Hip Hop dancing can now be measured using a standard curriculum. This is a milestone in the Hip Hop dancing world because nothing like this has ever been created. With step by step written instructions, pictures, & video...studio hip hop dancing can now be precisely measured on a global scale similar to that of the ballroom styles of dancing.
"We are not trying to take away anything from street hip hop or from the way it was originally founded. What we are trying to do is create a structured basis so that people everywhere can have a better understanding of how studio hip hop dancing works and be able to measure success on an international level." -Kevin Andrews
Media Contact: Kevin Andrews...Master Class Teacher, Choreographer, and Judge.
###