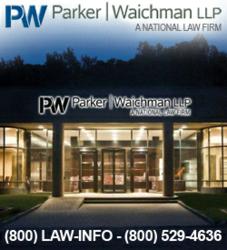 New York, New York (PRWEB) September 21, 2012
Parker Waichman LLP, a national law firm dedicated to protecting the legal rights of people injured by defective hip replacements and other dangerous medical devices, is reporting that Australia's Therapeutic Goods Administration (TGA) has advised that patients with metal-on-metal hip replacement devices be followed regularly - at least annually in some cases - and that, in addition to soft tissue imaging such as ultrasound and/or MRI, the follow-ups should include blood tests for cobalt and chromium. In a notice released on September 20, the TGA said it was aware that the public may be concerned about these devices as a result of media reports regarding potential problems with metal-on-metal hip implants. According to Parker Waichman, the TGA's new guidance comes amid mounting concerns that dangerous levels of metal debris shed from metal-on-metal hip replacements can lead to premature hip implant device failure, as well as adverse local tissue reactions, pseudotumor development, bone and tissue loss, and other serious long-term health consequences.
Metal-on-metal hip implants consist of a ball and cup that are both made from a chromium/cobalt alloy. A growing body of evidence suggests that because the two moving parts of a metal-on-metal hip implant wear against each other, they can release trace amounts of chromium and cobalt, especially during the first 18-months or so after the operation, according to the TGA. In some patients this can lead to high levels of those metals in the tissues surrounding the implant. If that happens, hip or thigh pain will usually develop. High blood levels of chromium and cobalt may also be observed, the TGA said.
According to Parker Waichman LLP, concerns about the possible dangers associated with metal-on-metal hip replacement devices first came to the fore in August 2010, when Johnson & Johnson and its DePuy Orthopaedics division issued a global recall for the ASR Hip Resurfacing System and ASR Acetabular System. The recall was issued after data from the National Joint Registry of England and Wales showed that 1 out of every 8 patients (12%-13%) who had received the devices had to undergo revision surgery within five years of receiving it.
Since the recall, a number of studies have continued to cast doubt on the safety of metal-on-metal hip replacement devices, including research published this past March in the Lancet, which found that there is a 6.2 percent chance patients with all-metal hips will need a replacement within five years. The month prior, a report in the British Medical Journal warned that hundreds of thousands of people around the world may have been exposed to dangerously high levels of toxic and potentially cancer-causing metals from failing metal-on-metal hip implants.
Last May, the U.S. Food & Drug Administration (FDA) directed 21 companies that market all-metal hip replacements, including DePuy, to conduct post-market studies of their products to determine if they were shedding dangerous amounts of metallic debris in patients. In July, a panel of FDA advisors recommended that patients fitted with metal-on-metal hip implants be monitored via imaging tests and possibly blood screening for metal ions. Overall the panelists agreed there was no good reason for doctors to continue using metal-on-metal hip implant devices.
According to Parker Waichman LLP, concerns over the safety of metal-on-metal hip implants have prompted medical device regulators in several other countries to issue guidance to patients and doctors. Earlier this year, regulators in the U.K. advised that some patients with large diameter metal-on-metal hip joints should have annual blood tests and possibly MRI scans for the lifespan of the joint. In May, Health Canada issued a warning for patients to be aware of metal hip replacement problems and adverse effects.
Parker Waichman LLP continues to offer free legal consultations to victims of defective medical devices, including DePuy ASR and other metal-on-metal hip implant injuries. If you or a loved one experienced premature failure of your implant or other health problems associated with a recalled DePuy ASR Hip Implant or other metal-on-metal hip replacement device, please contact their office by visiting the firm's DePuy ASR hip implant injury page at yourlawyer.com. Free case evaluations are also available by calling 1 800 LAW INFO (1-800-529-4636).
Contact:
Parker Waichman LLP
Gary Falkowitz, Managing Attorney
(800) LAW-INFO
(800) 529-4636
http://www.yourlawyer.com