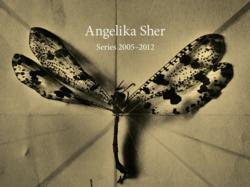 For the first time, I could wholeheartedly share pictures over the digital medium, knowing that the full level of detail is available to the viewer
TelAviv, Israel (PRWEB) May 01, 2013
HM's hipix® is a compression and rich image format technology utilizing ubiquitous video support for creation and display of still images. The hipix® enabled Angelika Sher Artist book, developed by PervasentConsulting, offers two Gigapixels of full resolution images, with single images exceeding a hundred Megapixels, displayed within a fraction of a second, all in a very compact application.
hipix® alleviates the main obstacles of image rich content publishing:

Enabling, highly responsive, immaculate display of limitless image resolutions.
Compressing files far more effectively than prevailing technology, keeping application size reasonable.
"For the first time, I could wholeheartedly share pictures over the digital medium, knowing that the full level of detail is available to the viewer", Angelika Sher.
"The production of hipix® based books or magazines is a fast and simple, low cost, process of enhancing existing PDF based material with the original high resolution images, bypassing the need for a costly redesign. The process is highly suited for many publication types some examples of which are art books, albums, catalogues and brochures. The resulting application is powerful, yet compact, bringing out the true quality of the original material without the penalties of a large download." says Ira Dvir, co-inventor of hipix®.
About hipix®
hipix® patented technology, by Human-Monitoring Ltd. (HM), is a file format utilizing open standards for enhanced user experience. hipix® relies on the existing infrastructure and existing embedded mobile video and audio codecs. Current implementation utilizes H.264, while next generation will support also HEVC.
For more information about hipix®, please visit: hipixpro.com or contact us at info(at)human-monitoring(dot)com
About the artist
Angelika Sher was born in Lithuania, formerly the USSR, now lives and works in Israel. Angelika works in a field of contemporary photography exhibiting her works worldwide. More info at http://www.angelikasher.com
About Pervasent Consulting
Founded in 2008, Pervasent Consulting has delivered hundreds of mobile applications to Apple's App Store. Pervasent Consulting is a leading expert in native iOS and Android mobile application development for custom consumer apps, restaurant apps, mobile publishing apps, and enterprise apps. Pervasent Consulting delivers a commitment to mobile solution excellence and a guarantee of thoughtful design and efficient, quality execution.