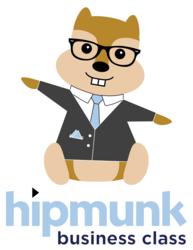 We've heard from many travel planners about the agony of planning, booking and managing travel for one person—let alone for multiple people. It can be an overwhelming, tedious, and frustrating task
San Francisco, CA (PRWEB) July 23, 2012
At the Global Business Travel Association (GBTA) Convention, Hipmunk, the travel search site, today announced the availability of its first paid product, Hipmunk Business Class. The new premium service takes the agony out of planning, booking, and managing other people's travel and allows for travel managers to save multiple trips for multiple travelers. The tool is tailored for executive assistants, office managers, and anyone who books travel for their friends, family or colleagues. Upon account sign-up, a user's first 60 days are free, and thereafter, the price will be $10 per month for the first year.
Features of the Hipmunk Business Class include:

Reduced communication back and forth: Travel managers can send travelers flight and hotel options via email directly from the Hipmunk Business Class interface;
Simplified decision making and travel booking: The traveler approves of travel options via email, which automatically sends an email to the travel manager. The email and notification provide the travel manager with a link to immediately book that travel;
Calendar integration: The ability to integrate Outlook or Google calendars and have events directly overlaid on flight and hotel results helps travel managers see which flights conflict with meetings and the proximity of hotels to meetings or conventions;
Saved airline and hotel preferences: Preferences can be saved per individual, so when conducting a search for a particular traveler, his or her preferences are always shown at the top of search results;
Executive travel options: Travel managers can easily book the best travel options whether it's trains for business center to business center travel or private regional jets for a small team wanting to avoid long security lines and depart and return on their own schedule.
"We've heard from many travel planners about the agony of planning, booking and managing travel for one person—let alone for multiple people. It can be an overwhelming, tedious, and frustrating task," said Adam Goldstein, Hipmunk CEO. "We developed Hipmunk Business Class to streamline the process and help travel managers simplify communication, minimize toggling between multiple calendars, and book directly with suppliers. This product reflects our dedication to providing users with the simplest, most easy-to-use interface and the largest breadth of travel options."
Following Hipmunk's recent announcement of its Series B Funding led by Institutional Venture Partners and additional funding from Ignition Partners, the company is extending its product offering with Hipmunk Business Class. This is the company's first tool developed for business professionals and its first paid product.
"While all of our products to date have been free, Hipmunk Business Class is a great opportunity to diversify our business model with a subscription service," said Goldstein. "We're excited to give our business users something they've sorely needed. It's an exciting milestone in our company's history."
With Hipmunk Business Class, users can search for, book and manage flights and hotels for other people faster and more reliably than ever.
Hipmunk Business Class is currently in beta and available on the web only. To access Hipmunk Business Class and begin your free trial, please visit http://www.hipmunk.com/businessclass.
About Hipmunk
Hipmunk is the travel site bringing the fun back to travel by taking the agony out of hotel and flight search. With its superior user experience, breadth of travel options and innovative "Agony" and "Ecstasy" sorts, Hipmunk allows travelers to select the best travel options at a glance. Flight results are displayed in a visual "timeline" and hotel results on a map with the ability to overlay unique, city-specific heatmaps.
Hipmunk is one of TIME Magazine's "50 Coolest Websites," TIME Magazine's "50 Best Smartphone Apps," Travel + Leisure's "Best Websites of 2011," Budget Travel's "Top 10 Most Useful Websites," and Inc.'s "Best Booking Website." Co-founders Adam Goldstein and Steve Huffman were named to Bloomberg BusinessWeek's "Top Tech Entrepreneurs," Forbes "30 Under 30" and Inc.'s "30 Under 30" lists. The company launched in 2010, is based in San Francisco, and has funding from Ignition Partners, Y Combinator, SV Angel, Webb Investment Network, Quest Hospitality Ventures, and several angel investors.
For more information, to book your next flight or hotel, and to download the iOS or Android application, please visit http://www.hipmunk.com
Media Contact:
Jacqueline Tanzella, Hipmunk
415-794-1118
Jacqueline(at)hipmunk(dot)com