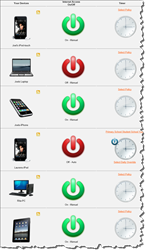 HIPOM's innovative approach to dealing with the growing problem of tech addiction among children is something that will likely resonate with any parent who has ever had the thought that maybe their kids are spending too much time on line.
Toronto, Ontario (PRWEB) April 26, 2013
HIPOM (Home Internet Peace Of Mind), an innovative new startup using home automation technology to tackle the rising problem of tech addiction among children, has been selected for the class of 2013 TechStars Chicago Accelerator program.
HIPOM – https://www.myHIPOM.com – a Toronto-based startup provides a 100% cloud-based service that enables parents to regain control over the amount of time their children spend on the internet. The free HIPOM service shows parents every connected device in their home and gives them the ability to individually turn their internet access on or off, in real-time over the web, like a virtual light switch. The service's unique home automation approach ensures that any device that connects to the internet through the home router can be easily controlled.
Troy Henikoff has been managing director of Chicago-based Excelerate Labs for the past 3 years mentoring 30 portfolio startup companies (10 each year) toward post-program funding totaling in excess of $30 million. Earlier this year TechStars – a leading national accelerator operating in a number of cities throughout the U.S. and Excelerate Labs joined forces to form TechStars Chicago. Yesterday, after a 2 month competitive selection process they announced the 10 startups to take part in the summer program.
Each company that is accepted into the program receives $18,000 in equity seed funding at the start of the their 3-month residency, with the option for another $100,000 in the form of a convertible debt note. However, the real value is in the program itself. Described by some as a "crash course MBA for entrepreneurs" the program subjects each startup to the scrutiny of a network of dozens of accomplished entrepreneurs, business advisors, and investors. Through a grueling series of intense one-on-one meetings with mentors, the founder's original vision is torn down to the studs and then built back up again, often transformed into a viable business model that will be attractive to investors. The program culminates in "Demo Day" where over 500 investors from all over North America come to Chicago to hear each of the 10 companies "pitch" their carefully groomed business concepts on stage with high hopes of raising their next round of financing.
Henikoff said the 10 startups were selected from an applicant pool of 904 which was double the size of the applicant pool of 2012. "This year's application process was our most competitive yet, which is a testament to the program's solid foundation," said Henikoff. The 10 companies covered a wide range of industries and geographies with only three actually based in Chicago. HIPOM, was one of only two non-U.S. based companies (both from Canada) to be selected for the prestigious program.
"We were absolutely delighted to have our business concept vetted by such high caliber professional investors at TechStars during the application process," said Rod da Silva, HIPOM's founder. "When you work on your concept so hard and for so long in isolation it is easy to convince yourselves that it's a good idea. But when seasoned serial entrepreneurs with experience and vision validate your idea as being promising, it gives you a real adrenaline rush. We can't think of a better to get our business off the ground then by participating in the TechStars Chicago program this summer."
Unlike virtually every other parental control offering available today, HIPOM's innovative service does not require parents to be IT Pros in order to provide responsible boundaries around their children's home internet use. HIPOM delivers an easy-to-use 'home automation' solution to internet parental controls by managing the common internet access point that people already have in their homes and that all internet-enabled devices connect through – i.e. the home internet router. With HIPOM's parent-friendly solution, parents do not require physical access to the devices they are managing, nor do they have to understand how those devices work in order to completely control their internet usage in the home. Using a simple 'power button' metaphor, non-technical parents can easily manage all of their children's online activities from their simple to use, personalized and secured HIPOM 'Control Panel' web page, whenever and wherever they can connect to the web.
Henikoff had this to say about HIPOM: "When I read the application for HIPOM I could immediately relate to the pain point that it addresses because I have children of internet age myself. I gave the service a try and sure enough it really works." He went on to say, "HIPOM's innovative approach to dealing with the growing problem of tech addiction among children is something that will likely resonate with any parent who has ever had the thought that maybe their kids are spending too much time on line."
The program begins May 28th in downtown Chicago with Demo Day scheduled for August 28th at the legendary House of Blues.
Parents interested in learning more about HIPOM or trying out its free service can visit https://www.myHIPOM.com.