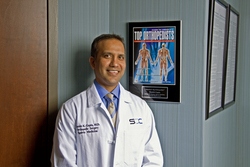 When you get involved and dedicate yourself to this surgery, you'll recover quickly and it will be a successful and easy process.
Boca Raton, FL (PRWEB) July 19, 2010
Minimally Invasive Hip Replacement Equals Maximum Success for SOC Patient
Cleo Butler of Coconut Creek, Florida started experiencing minor hip discomfort around the Holiday season of 2007. Working full-time for a delivery company, the hindrance became a constant problem on the job as well as in his daily life. But after nearly 2 years of dealing with the constant the pain, it had become unbearable and he decided that something had to be done.
The simple task of walking to his car in the morning, let alone being able to conduct his strenuous daily duties at the delivery company at which he tirelessly worked for over 4 decades, became nearly impossible, and he developed a noticeable limp. Basic tasks like taking a short walk or grocery shopping had become tremendous ordeals and this was not the way he wanted to spend his planned retirement.
Under the supervision of his family physician, Dr. Kravitz of NorthWest Medical Center in Margate, he tried several different conservative treatments, from incorporating a litany of anti-inflammatory drugs into his daily routine to a detailed program of specialized exercise therapy. While giving him some much needed temporary relief, these forms of treatment failed to provide Mr. Butler with the long-term improvement that he was in desperate need of.
He consulted with three different orthopedic surgeons and they all told him that his best chance at a return to normalcy was invasive surgery on the affected hip. After speaking with several friends who had elected to undergo a posterior hip replacement, and listening to the nightmarish stories of extended hospital stays and several months of uncomfortable recuperation, he realized that there had to be a better way. After investigating his options, he discovered the revolutionary procedure of Minimally Invasive Anterior Hip Replacement or Anterior Hip Arthroplasty.
Originally from Kentucky, he first explored options in his home state, as well as in Dallas, Texas, but was unable to find a doctor that performed this minimally invasive surgery that he desired. The vast array of doctors that he had been contacting simply did not have the knowledge or experience that he needed to reach his ultimate goal of a pain free existence.
He knew that the minimally invasive option was the one that best suited his needs and after some intensive Internet research, he discovered the highly regarded services of Dr. Manish Gupta of the Specialty Orthopedic Center of Boca Raton. Butler was thereafter referred by his trusted family physician of many years to the very same Dr. Gupta. He had finally found his perfect match and was ready to proceed.
From the beginning, the dedication and sincerity of Dr. Gupta put his reasonably troubled mind at ease. This was to be Mr. Butler's first major surgery and at 69 years of age, he had his legitimate concerns about the process he was to undergo. He was overwhelmingly pleased with the quality of care provided by Dr. Gupta and his assisting staff or doctors and nurses, were extremely helpful and made themselves readily available to answer any questions or stem any concerns that would arise throughout his experience, through initial consultation to surgery completion. "He was really great," says Butler, "he did a wonderful job preparing me for what to expect from day one. I went to the hospital very confident that it would be a successful and pleasant experience."
There are many aspects that make this an attractive option when seeking a solution. It does not cut through any muscle. It offers a sizably smaller incision. 10 inches for traditional surgery, compared to as little as 3 inches for the minimally invasive solution. Hospital stays are trimmed down from over a week to the surgery possibly being performed as an outpatient procedure. And maybe most importantly, recovery time is virtually cut in half. You can be pain free in as little as 4 weeks, where as 3 months is a more acceptable time frame for traditional posterior hip replacement surgery.
The day of the surgery went on without a hitch. Mr. Butler arrived at the North Broward Medical Center at 5:30 AM where Dr. Gupta was on site to conduct the surgery. Butler was very impressed with the hospital's specialized Hip and Joint Wing, to which Dr. Gupta has been a tremendous asset since returning to South Florida to practice his passion of orthopedic medicine.
With the help of Dr. Gupta and his staff the surgery was a complete success. Mr. Butler was out of the hospital after only 3 days and was able to take care of himself at home fairly well almost immediately upon his return. Within two weeks after surgery he was off the walker and able to drive his car. He used a cane to get around for a short time, but is now completely free of any assistance and well on his way to a complete recovery of his everyday abilities. His licensed physical therapist is extremely impressed at how fast he recovered, and directly credits it to the skill of his surgeon and the detailed process through which Dr. Gupta has led Cleo from start to finish.
With a wide smile and steady gait, Mr. Butler recommends the minimally invasive Anterior Hip Replacement to anyone needing a hip replacement. "Everyone's always apprehensive about this procedure," acknowledges Butler, "but when you get involved and dedicate yourself to this surgery, you'll recover quickly and it will be a successful and easy process. If you want the best possible treatment from consultation to completion, there is no other option than to go to Dr. Gupta."
For more information on Minimally Invasive Anterior Hip Replacement and other services provided by Dr. Gupta and his staff please go to SpecialtyOC.com.
###