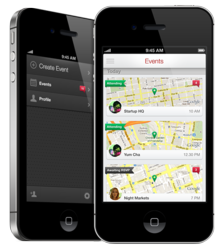 Our mission is to enhance your daily event experience, all with a few taps right from your smartphone.
San Francisco, CA (PRWEB) August 02, 2012
Hipvite is a newly launched mobile app dedicated to helping users create and experience spontaneous events over a simple, beautiful and intuitive interface. The app allows users to share events with contacts from their address book and multiple social media, including Facebook. It also uses technologies like geo-fencing to "check-in" users automatically with their favorite social media.
The app is mainly focused on making event invitations simple and the event experience engaging over mobile. After creating the event, users can choose to broadcast their events to their friends and followers on Facebook and Twitter. The experience doesn't end there, as users can then interact with each other by sharing comments and photos all inside a rich mobile interface.
"We know that when it comes to sharing social events, users have a lot of options," says Nishant Menon, co-founder of Hipvite. "But, mobile is a completely different ball game and users have a limited attention span. Ultimately they are looking for a rich yet simple interface without the hassle of filling out forms. We take the usual who, when and where for events allowing users to create and share events in just seconds. Our mission is to enhance your daily event experience, all with a few taps right from your smartphone."
The app also uses smart geo-location polling to share location of the members attending the event. To take it a step further the app can automatically check-in for the user with his or her favorite social media using inbuilt geo-fencing. "Event management is more than just simply updating RSVP statuses. Users spend time on calendar entry, getting directions and checking in among other interactions. I'm proud to say we do it all," says Menon.
In addition to the mobile app, Hipvite has also released a web app. Menon says, "With Hipvite we want to ensure that everyone is invited. Users can skip the hassle of texting back and forth and still participate through our web interface."
"In the age of smartphones event management on mobile should be effortless. We are working towards providing our users with a simple and rich integrated experience allowing them to share their treasured events with everyone they care about".
About Clique App Inc.
Clique App Inc. is a registered Delaware C-Corp, building mobile and web applications. The team of highly skilled developers and designers work towards building new and intuitive solutions using the latest technologies.