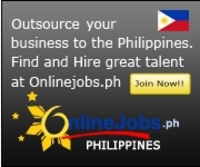 "Onlinejobs.ph really does provide an easy way to find quality staff."
Lehi, UT (PRWEB) May 16, 2010
OnlineJobs.ph continues to revolutionize the way business is done overseas. And they have opened their services to the public. With proprietary contracting in place, the company has secured a reliable way for any size business to hire a Filipino employee full and part-time for as little as $1.75/hour.
There services give any size business access to hundreds of educated, well-qualified individuals. And there is a reason they focus on specifically hiring a Filipino.
"They are very loyal, hard-working, dedicated people," says John Jonas president of OnlineJobs.ph "I have worked with a team of Filipinos for more than four years and they are incredible employees."
OnlineJobs.ph has worked to refine the recruiting and hiring process. Within their site you can search resumes of qualified Filipinos and hire a Filipino on your own, or you can choose to have the OnlineJobs.ph recruit and hire Filipinos for you. It's as simple as filling out a request form and they do all the match making.
Hiring a Filipino can be a good solution for any company. The potential candidates are tested to be proficient in general tasks to more specific skills like marketing, management, programming, designing, web master and even finance.
'We focus on long-term solutions,' says Jonas. 'A business has a higher success rate when they have well-trained, long term employees. Our goal is to make that affordable for any size business, and move away from the one contract job at a time mentality, which is not always the best return on your investment.'
OnlineJobs.ph allows employers to connect with and hire qualified Filipino employees. While the company does provide a recruiting service, they also offer a low-cost connections service, a way for employers to search for Filipino workers by certain trades, skills, skill levels, experience and availability.
To ensure the best customer experience, OnlineJobs.ph is constantly monitored and new candidate profiles are entered daily. The company says it's main goal is to make sure employers are getting what they need and are satisfied with the OnlineJobs.ph experience.
"I have now hired two Filipino staff through OnlineJobs.com and they are fantastic." Says Ben Hulme of Start Web Designing. "They really do provide an easy way to find quality staff."
It costs nothing to search their large database of Filipino employees. Any employer can test it out by going to http://www.onlinejobs.ph.
OnlineJobs.ph Info
Filipino's getting jobs with American Companies.
Information about OnlineJobs.ph is available to consumers via the Internet at:
Journalist note: Information about OnlineJobs.ph and its products is available to journalists by email or phone:
email: support(at)onlinejobs(dot)ph
phone: 801-228-0078
###