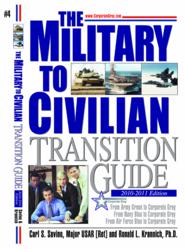 I got the job of my dreams, and it was through Corporate Gray.
Fairfax Station, VA (PRWEB) May 03, 2012
Corporate Gray celebrates its 15th year of helping companies hire veterans. The small veteran-owned business has made a big impact, helping thousands of men and women find new jobs through its military-to-civilian career transition books, job fairs, and online services.
Since 1997, Corporate Gray has distributed more than 3 million copies of its military-to-civilian transition books for free to everyone who has separated or retired from active duty. The idea for the original book came from a "lessons learned" presentation that Carl S. Savino, a former Army officer, gave to his fellow officers as he left the service. Encouraged by his boss to write a book, Savino teamed with Dr. Ron Krannich, a career specialist, to co-author "From Army Green to Corporate Gray." They later wrote "From Navy Blue to Corporate Gray" for members of the Navy, Marine Corps, and Coast Guard and "From Air Force Blue to Corporate Gray" to address the needs of Air Force personnel.
In an effort to reach more transitioning military members, Corporate Gray obtained advertising support from military-friendly employers who want to hire veterans to join their companies. This advertising support allows Corporate Gray to distribute more than 200,000 books each year to everyone leaving the Army, Navy, Air Force, Marine Corps, and Coast Guard - at no cost to the veterans or to the military services. The next version of the book, entitled "The Military to Civilian Transition Guide," will be shipped to more than 200 U.S. military bases around the world this summer. At a time of tight budgets, military transition specialists appreciate this free resource: "I used the book in all my TAP seminars and ensured every walkin separatee received one."
Corporate Gray also sponsors military-friendly job fairs to provide job seekers with face-to-face contact with employers. Since 1997, the company has held more than 120 job fairs throughout the U.S. and overseas, including Washington, D.C., Virginia, Maryland, North Carolina, Florida, Texas, Arizona, California, Washington, and Germany. Its job fairs are recognized by employers as "the best job fair for the military" and "one of the most organized events I have attended in years." Corporate Gray has expanded its service to include "virtual job fairs" in order to help connect job seekers and employers who are not able to attend a face-to-face event.
One of the first "job boards" for veterans, Corporate Gray has helped military veterans find employment since 1998. The current online system includes military resumes, job posts from military-friendly employers, career articles and exercises, and a blog. As one satisfied job seeker stated, "I got the job of my dreams, and it was through Corporate Gray."
About Corporate Gray: Competitive Edge Services, Inc., which does business as Corporate Gray, provides military-to-civilian career transition books, job fairs, and online services. The company, based in Fairfax Station, Virginia, is owned by Carl S. Savino, a former Army officer and West Point graduate. All Corporate Gray services are free to job seekers. Its next job fair is a "Security Clearance Only" event on May 18, 2012, in Springfield, Virginia. More information is available online at http://www.CorporateGray.com