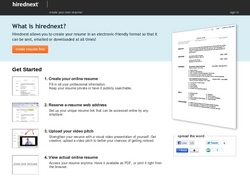 a majority of jobs are not even posted anywhere, applicants must have a way to take advantage of the unconventional job market
Orlando, FL (PRWEB) February 18, 2011
Hirednext today launched hirednext.com a new generation of resume management software that facilitates the creation of an on-line professional identity. In this highly competitive job market, finding meaningful employment is difficult at best. As the unemployment rate remains high, it is harder and harder to stand out from the crowd. On average, employers receive more resumes for each open position than they could ever possibly review.
Hirednext is not a job board, they believe that job boards no longer fulfill the needs of the market, and it is no longer acceptable to simply broadcast resumes, applicants must create compelling professional identities and take advantage of the unconventional job market.
Hirednext offers individuals a resume management system that simplifies the structure and creation of a resume. Hirednext allows the applicant to attach a video pitch to their on-line resume, and reserve a customized URL for viewing the resume on-line, thus, enhancing the applicant's professional identity. The most important fact is that hirednext provides these services for free.
Visit Hirednext at hirednext.com.
###