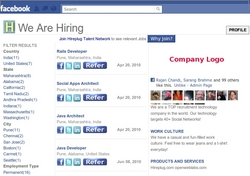 Social network is an asset that can be leveraged for recruiting. Everyone can share jobs to recruit the best.
Carmel, IN (PRWEB) October 15, 2010
Everyday we are making new friends on facebook, connecting with old friends and deepening our relationships. First software changed the way we do business, now software is changing the way we manage and grow our relationships. When you add a friend on Facebook, you are actually digitizing a relationship. Benefits? - more relationships can be managed and built in shorter span of time.
Rajan got an idea while his stay at Carmel, Indiana - The way people interact online is getting social everyday and the way people will recruit will also be social in near future. Recruiters are building relationships online and sharing job opportunities already. This can be improved upon by involving all the employees in recruiting from their social networks. He didn't have visa or finance to fund this project at US. So, he moved back to India to fund this project.
Hireplug helps with adding an employer branded Facebook app on all employees' Facebook. Why would employees do that? - Well, there is employee referral bonus and ability for employees to recommend jobs to friends on 40+ social networks. Recruiters can also share jobs mutually to benefit from each others social networks.
What Hireplug brings to the table?
Ability to see the 'Job Visitors' - Technology helps recruiters see who actually viewed the jobs they posted on hireplug and approach them proactively.
Facebook apps sitting on all employees profiles automatically posts 'Company is recruiting' messages on their walls and hence friends' news feed. Clicking on the message leads to employer branded private careers on Facebook. The best part if they can apply and upload resume without even leaving the Facebook.
Jobs can be sent to friends and connections on 40+ social networks, right from inside facebook. Hireplug automatically tracks employee referrals, candidate source etc.
Most companies have careers pages on their web-site but the quality of the careers section is not as good as modern job portals. Hireplug's careers widget helps companies add the widget to their websites and make jobs findable for their site visitors.
Some of the companies who are interested in Hireplug products are - Accenture, Capgemini, Bank of America, EMC, Sungard, SAS, John Deere, MindTree, Hexaware etc.
Initial customers are being offered the service at a low monthly cost and people have started to see the results from social media. Feel free to checkout Hireplug website for more information.
Feel free to write to us - press(at)hireplug(dot)com for queries.
###