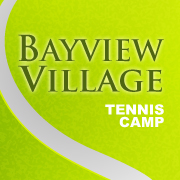 What we aim to do is bring on new coaches into our tennis camp who have the credibility and the knowledge base to help teach our kids
Toronto, Canada (PRWEB) March 09, 2015
Bayview Village Tennis Camp (http://www.BayviewVillageTennisCamp.ca), the Greater Toronto Area's leading provider of first-class tennis camps and clinics for players of all ages and skill levels, is announcing the hiring of Paul Lutz as its newest tennis coach.
"What we aim to do is bring on new coaches into our tennis camp who have the credibility and the knowledge base to help teach our kids," says Peter Nielsen, director of Bayview Village Tennis Camp. "Paul Lutz embodies all of those attributes and we're excited to welcome him as part of the team."
Lutz brings over 15 years of experience to Bayview Village Tennis Camp, having coached both juniors and adults at all levels during that time. He has also worked the pro-am for the Rogers Cup, been a camp director, and acted as assistant and head tennis pro at several other tennis clubs across the GTA, working with a wide variety of players.
"He's worked with everyone from inner city kids to legends of the game like Andre Agassi, John McEnroe, Jim Courier, and Michael Chang," Nielsen adds. "We expect a lot from him and I'm sure he has the same expectations for himself."
"Mr. Lutz has what it takes to add some value to our staff," Nielsen concludes. "And what makes him really fit into the culture at Bayview Village Tennis Camp is that he still displays excitement and a passion for the sport. Our young players need to see that on a daily basis."
Spring and summer camps will begin soon and Bayview Village Tennis Camp welcomes players of all skill levels to come take part. But camps fill up quickly, so parents and potential players are encouraged to visit http://www.BayviewVillageTennisCamp.ca for more information on availability.