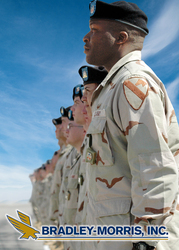 BMI clients have many reasons to recruit military talent: These job seekers are well-trained, are great team leaders and team members, are dedicated workers and come from a diversity-rich talent pool
Atlanta, GA (PRWEB) June 20, 2010
Bradley-Morris, Inc. (BMI), the largest military-focused recruiting firm in the U.S., announced Q3 dates for their ConferenceHire® events today. The contingency hiring events are efficient recruiting solutions for employers hiring military for careers in Management / Engineering, Technician / Supervision / Field Service and Sales / Business Development. In addition, employers who hire military via these events can realize relocation cost savings.
According to a 2008 Harvey Research Reader Preference Study, SHRM's HR Magazine subscribers have an average annual budget of $320,000 for relocation products and services. BMI clients can reduce these costs by hiring military as many military job seekers have a government paid-for move included as part of their transition to civilian life.
The ConferenceHire events will take place on the following dates:
July

7/19 Austin, Texas
7/19 Norfolk, Virginia
August

8/02 Atlanta, Georgia
8/02 San Diego, California
8/23 Chicago, Illinois
8/23 Providence, Rhode Island
8/30 Atlanta, Georgia
September

9/20 San Diego, California
9/27 Austin, Texas
9/27 Norfolk, Virginia
"BMI clients have many reasons to recruit military talent: These job seekers are well-trained, are great team leaders and team members, are dedicated workers and come from a diversity-rich talent pool," said Sandra (Sandy) Morris, CEO. "On top of all of these benefits, employers also derive relocation cost savings by targeting and hiring military-experienced talent. For some companies, this is a prime driver of the decision to recruit transitioning military; for others it is a savings bonus when they hire prior-service members."
In addition to ConferenceHire events, Bradley-Morris, Inc. offers solutions for employers who wish to recruit military that include:
TargetHire®, contingency recruitment accelerated by BMI's patent-pending military-to-civilian matching technology.
PowerHire®, BMI's volume hiring solution.
Government, Contract and Employment Services (GCES), dedicated resources focusing on government / defense hiring needs, contract employment and outsourced recruiting / employment services.
Fortune 1000 and emerging sector companies attending BMI ConferenceHire events interview military-experienced candidates for careers in leadership and management; project engineering; project management; sales and business development; IT management; government sector; production engineering / supervision; manufacturing engineering / management; operations and logistics engineering / supervision; electrical, mechanical and maintenance technicians; and field service technicians.
Employers and job seekers who wish to view the complete 2010 ConferenceHire schedule and register for BMI's services can go to Bradley-Morris.com or call 1-800-330-4950.
About Bradley-Morris, Inc. (BMI), Helping Employers Realize Relocation Cost Savings
Bradley-Morris, Inc., the largest military-focused recruiting firm in the U.S., matches the top engineering, management, sales, IT, technical, operations and diversity military-experienced job seekers with the leading jobs in the Fortune 1000 and emerging company sectors. Our client-focused approach yields superior return-on-investment and results in a 96% customer service satisfaction rating from the valued companies that partner with us. In addition, 90% of our military job seekers receive interest from these companies by taking advantage of our free ConferenceHire process. Serving the U.S., Europe and Asia, Bradley-Morris, a WBENC-certified diversity supplier, is headquartered in metro-Atlanta, Georgia, and can be found on the web at http://www.Bradley-Morris.com.
###