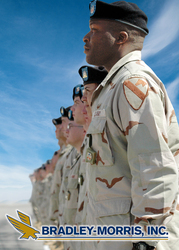 Atlanta, Georgia (PRWEB) December 20, 2009
Bradley-Morris, Inc. (BMI), the largest military-focused recruiting firm in the U.S., announced first quarter dates for their ConferenceHire® events today. The contingency hiring events are efficient recruiting solutions for employers interested in hiring veterans for careers in Management / Engineering, Technician / Supervision / Field Service and Sales / Business Development.
The ConferenceHire events will take place on the following dates:
January

1/18/10 Austin, Texas
1/18/10 Norfolk, Virginia
1/25/10 Atlanta, Georgia
February

2/15/10 Houston, Texas
2/22/10 Norfolk, Virginia
2/22/10 San Diego, California
March

3/01/10 Atlanta, Georgia
3/08/10 Chicago, Illinois
3/08/10 Providence, Rhode Island
3/29/10 Norfolk, Virginia
3/29/10 San Diego, California
"To address the growing demands of the economic recovery, the first positions employers are looking to fill are key contributors in team leader, technical and sales roles," said Sandra (Sandy) Morris, CEO. "Military-experienced job seekers are some of the first candidates that employers pursue to fill these positions, and BMI accelerates corporate recruiters' ability to source and hire from this talent pool."
In addition to ConferenceHire events, Bradley-Morris, Inc. offers recruiting solutions for employers interested in hiring veterans that include:
TargetHire®, contingency recruitment accelerated by BMI's patent-pending military-to-civilian matching technology.
PowerHire®, BMI's volume hiring solution.
Government, Contract and Employment Services (GCES), dedicated resources focusing on government / defense hiring needs, contract employment and outsourced recruiting / employment services.
Fortune 1000 and emerging sector companies attending BMI ConferenceHire events interview military-experienced candidates for careers in leadership and management; project engineering; project management; sales and business development; production engineering / supervision; manufacturing engineering / management; operations and logistics engineering / supervision; electrical, mechanical and maintenance technicians; and field service technicians.
Employers and job seekers who wish to view the complete 2010 ConferenceHire schedule and register for BMI's services can go to Bradley-Morris.com or call 1-800-330-4950.
About Bradley-Morris, Inc. (BMI), A Firm for Hiring Veterans
Bradley-Morris, Inc., the largest military-focused recruiting firm in the U.S., matches the top engineering, middle management, technical, sales, operations and diversity military-experienced job seekers with the leading jobs in the Fortune 1000 and emerging company sectors. Our client-focused approach yields superior return-on-investment and results in a 96% customer service satisfaction rating from the valued companies that partner with us. In addition, 90% of our military job seekers receive interest from these companies by taking advantage of our free ConferenceHire process. Serving the U.S., Europe and Asia, Bradley-Morris, a WBENC-certified woman-owned business, is headquartered in metro-Atlanta, Georgia, and can be found on the web at http://www.Bradley-Morris.com.
###