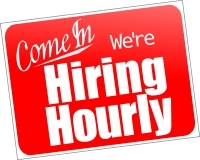 There is no longer any economic justification for charging hundreds of dollars per job listing - it's time for job postings to be free
Dallas, TX (PRWEB) May 5, 2010
Hiring Hourly announces the launch of its new employment website dedicated to 100% free job posting and job search for hourly, part-time and seasonal employment opportunities, traditionally cost-prohibitive segments for employers to reach using online recruiting tools.
"Even in this difficult economy, companies of every stripe and size from the smallest garage start-ups to the largest multi-national corporations struggle with the high costs of staffing hourly positions, " says Alan Stevens, Hiring Hourly Founder & CEO. "It's time for online job postings to be free."
Bucking the recent trend of employment websites charging site users to view job listings as well as for employers to post them, Hiring Hourly is free to register and free to use for both employers and jobseekers. There are no upgrade fees, premium fees or pay-per-click fees. "In today's economy where most of the software is open source, there is no longer any economic justification to charge hundreds of dollars for a single employment listing in a single region," notes Stevens.
"We have a simple strategy based on meeting the mutual needs of employers and jobseekers," says Rayya Salloum, Vice President of Marketing. "By making job posting free, we attract a lot of postings. Likewise, by offering lots of postings and checking to make sure they are real postings, we attract lots of jobseekers. Having lots of jobseekers attracts even more employers, which leads to even more listings, and from there we just keep the positive cycle going."
Hiring Hourly focuses solely on the hourly employment market, and limits postings to bona-fide employment offers - franchise or commission-based opportunities are prohibited, as are adult-oriented listings. All postings are reviewed for accuracy by a human editor. Future site enhancements include Spanish-language postings and bulk job upload tools for enterprise customers. Employers can register for free at http://www.hiringhourly.com.
About Hiring Hourly LLC
Based in Dallas, Texas, Hiring Hourly LLC focuses exclusively on serving the hourly employment market. Both job search and job postings are 100% free. Veteran media executive and Founder Alan Stevens launched Hiring Hourly with the belief that free job search should be just as accessible to employers and jobseekers as free web search or online social media.
###