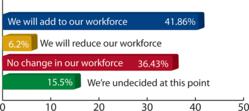 The Hamilton Hiring Index for the 3rd quarter 2011 stands at 67*.
Des Moines, IA (PRWEB) June 29, 2011
Key Findings:

47% of Iowa employers are somewhat or very optimistic re: job growth for the next quarter
The majority of hiring will be entry or mid-level positions
Optimism was highest in Central and Northeast and larger employers
13.75% of new jobs will be at a senior level
Contract labor usage will trend upward
6.2% of respondents plan to reduce their work force
The job reductions will primarily come at mid-level positions
Pessimism was highest in Southwest Iowa and among smaller employers
Analysis:
The Hamilton Hiring Survey results for third quarter 2011 indicate that Iowa employers are more optimistic than their national counterparts. When asked about their sense of optimism for overall job growth in the next quarter, 47% of the respondents answered either somewhat or very optimistic. In addition, 41% reported that they expected to increase total employment for their organization over the next quarter. Only 6.2% said they planned on reducing their work force.
Noting that Iowa's lower unemployment rate (6% rather than the national average of 9.1%) is a factor in the responses, Hamilton Group President and employment expert Tom Hamilton added, "Iowa historically has not seen its unemployment rate move as dramatically as other states. Iowa's diversified employment base of Agriculture, Manufacturing, Financial Services, Business Services, Retail, Healthcare and Government usually allow it to weather macro economic downturns better than most states. So it makes sense that we're now seeing a shift towards increasing staff before many other areas of the country."
The majority of the jobs that will be added are split between mid-level positions and entry-level positions. This emerges as a positive trend revealing the jobs are either new positions or ones that were previously not filled. The split indicates there may be some pent up demand at all levels and that hiring could slowly accelerate in the coming quarters. Only 13.75% of the new hires would serve at a senior level.
Not everyone is ready to make a change, however. A relatively high number (29%) of respondents fell into the "neither optimistic nor pessimistic" category. Hamilton believes that this "neutral" hiring stance is affected by the many uncertainties facing businesses today. "These uncertainties include tax policies, regulations, healthcare reform, monetary policy, government budgets and, of course, the national debt," he added. "Clarity on these issues will undoubtedly improve optimism for job growth among small and medium sized businesses."
For the businesses who plan to decrease their employment, the majority of the cuts will come in mid-level positions. "As companies look to trim costs, many times middle managers are the target during reorganization," Hamilton explained. "We also are seeing some companies choose not to replace retired workers, and expect this scenario will happen more frequently as the baby boomers retire in the coming years."
More companies do plan to increase their use of contract labor. "We see this trend as a cautiously optimistic approach that many manufacturers are taking as they add contract employees while waiting to see if demand continues to increase for their products. Businesses will many times convert contract employees to full-time once they are confident about demand," said Hamilton.
Optimism for job growth was scattered throughout the state. Central and Northeast Iowa were the most optimistic for job growth, followed by Northwest and Southeast Iowa. Optimism was particularly high with businesses employing between 100 and 500 workers.
Pessimism was also present throughout the state, the highest found within businesses employing between 5 and 100 workers. Southwest Iowa had the lowest optimism scores. Recent flooding and natural disasters in the region likely had an effect on responses.
The Hamilton Hiring Index for the 3rd quarter 2011 stands at 67*.
About the survey:
The Hamilton Hiring Survey looks at employer confidence and hiring intentions for the upcoming quarter in the state of Iowa. The survey then results in an index number representing the overall confidence for the next 90 days. The complete report and quarterly comparisons are available at http://www.HamiltonHiringSurvey.com
Much of the employment data available today is trailing statistics. The Hamilton Hiring Survey is the only statewide staffing survey of small and medium-sized businesses predicting future hiring trends.
The 3rd quarter survey for 2011 was completed in mid-June of 2011 and reflects attitudes and intentions for July – September 2011.
*From the survey data a hiring index is calculated to indicate the level of optimism and hiring plans for the upcoming quarter. The Hamilton Hiring index is based on a scale from 1-100. 50 is considered neutral, while a number above 50 indicates an expanding job market for small and medium-sized businesses in Iowa. A number below 50 indicates a retracting job market for small and medium-sized businesses in Iowa.
###