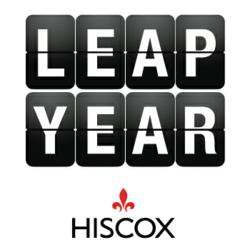 Leap Year chronicles the trials and successes that our small business customers experience every day. We have been championing startups internationally for over five years so there's not much we haven't seen. The ups and downs in this series will resonate
New York, NY (PRWEB) February 29, 2012
Hiscox, the first insurer in the U.S. to offer small business insurance direct, online and in real time, today announced it has renewed Leap Year, its award-winning original dramedy about five friends founding a tech startup, for a second season. Filming of Leap Year's ten 22-minute-episode second season begins March 5th in San Francisco and will premiere this summer on Hulu and HuluPlus, Mashable, YouTube and a variety of online and mobile platforms.
Created and produced for Hiscox in collaboration with CJP Digital Media and Happy Little Guillotine Films, Leap Year co-stars series co-writer/director Yuri Baranovsky, Alexis Boozer, creator/executive producer Wilson Cleveland, Daniela DiIorio and Drew Lanning as downsized co-workers turned co-founders of a buzzworthy technology startup called C3D. Leap Year received critical acclaim and amassed over 5 million views during its first season and was recently honored by NATPE with its Digital Luminary Award for Best Branded Entertainment Series.
Season two follows Aaron, Bryn, Derek, Olivia and Jack as they race to bring their C3D holographic web conferencing device to market before their personal lives and dreams of success are permanently derailed by the head of a competing startup bent on sabotage played by Joshua Malina (Scandal, The West Wing). Steven Weber (Studio 60 on the Sunset Strip) and Emma Caulfield (Once Upon a Time, Bandwagon) will also guest star this season along with Craig Bierko (The Three Stooges) and Julie Warner (Crash, Tommy Boy), who are set to return as Gemini Corp CEO, Andy Corvell, and attorney Josie Lanning.
Startup fans and founders from Silicon Valley to Silicon Alley can expect to see many familiar faces in cameo appearances including Reddit and Breadpig Co-founder Alexis Ohanian and What's Trending Host, Shira Lazar. There is also a story line in which the founders of C3D are accepted into the prestigious TechStars startup accelerator and receive guidance from the program's actual mentors including TechStars Founder and CEO David Cohen and Managing Director David Tisch.
"Leap Year chronicles the trials and successes that our small business customers experience every day. We have been championing startups internationally for over five years so there's not much we haven't seen. The ups and downs in this series will resonate with small business owners, as well as make them laugh," said Kevin Kerridge, small business insurance expert at Hiscox.
New episodes of Leap Year will premiere every Monday on Hulu and HuluPlus and be available on Mashable, YouTube, iTunes and other platforms the following week. HuluPlus subscribers may also watch Leap Year on their TV sets and other connected devices via Roku, TiVo, PlayStation ® 3, Nintendo Wii and Xbox 360; or Apple or Android tablets and smartphones via the Hulu Plus mobile app. Leap Year season 1 is currently available on Hulu, Hulu Plus, YouTube, Mashable Video, Blip and iTunes and will soon be available on Netflix and Amazon Instant.
To learn more about Hiscox Small Business Insurance, including general liability insurance, professional liability insurance and business owner insurance, visit http://www.hiscoxusa.com/small-business-insurance/ or speak with a Hiscox licensed advisor at (888) 202-3007 (Monday through Friday, 8:00 AM– 10:00 PM EST).
###