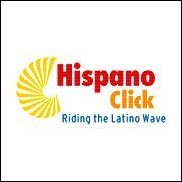 Major online advertising networks come to us when they need to reach a Hispanic target. One out of every three Hispanic internet users visits our sites each month, so we can really promote any brands efficiently
(PRWEB) November 15, 2006
HispanoClick (http://www.hispanoclick.com)], an online Hispanic advertising network, continues to grow in popularity. Recently ranked in the top 100 of all U.S. internet properties (comScore Media Metrix), HispanoClick works with advertisers, businesses and webmasters in targeting Spanish-speaking consumers. The company now reaches 6.2 million unique visitors each month in the United States.
Because Hispanics constitute the fastest growing segment of the U.S. market with a purchasing power of over 700 billion dollars, reaching consumers in this market is very important. HispanoClick specializes in assembling an online ad network of "best of breed" Spanish language publishers from the United States, Latin America and Spain.
"We just got back from ad:tech in New York and we definitely had a blast with top-tier advertisers and agencies utilizing our effective and efficient online solutions," said Marc Duquette, CEO of Hispanoclick.
"Major online advertising networks come to us when they need to reach a Hispanic target. One out of every three Hispanic internet users visits our sites each month, so we can really promote any brands efficiently," said Ana Maria De La Cruz, Marketing Manager of HispanoClick.com. New advertisers that have recently joined the HispanoClick network include General Electric and United Health Care.
HispanoClick will be looking for early-stage private investors and angel investors to secure a first round of equity financing. For more information please contact Marc Duquette via e-mail or visit: http://www.hispanoclick.com.
About comScore:
comScore Networks is a global Internet information provider to which leading companies turn for consumer behavior insight that drives successful marketing, sales and trading strategies. comScore Media Metrix, the audience measurement division of comScore Networks, is the preferred source of Internet audience measurement for advertising agencies, publishers, marketers and financial analysts.
About HispanoClick
HispanoClick, a premier Hispanic online advertising network specializing in web sites for the Spanish-speaking market, offers a complete solution for advertisers seeking a way to clearly communicate their message to the online Hispanic market. The HispanoClick online Hispanic advertising network empowers businesses and advertisers to achieve brand recognition, sales and lead generation within the Hispanic community by using the latest business technology.
###