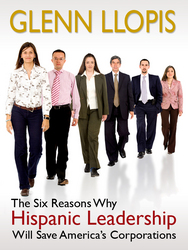 Irvine, CA (Vocus) December 2, 2010
Center for Hispanic Leadership (CHL), announced the ten cities for its 2011 Hispanic Leadership Tour that is scheduled to launch in February in Dallas, TX. Throughout the Tour, CHL Founder/CEO Glenn Llopis seeks to create an awakening amongst corporations – regarding the importance of six characteristics that are critical to propel sustainable workplace innovation and that Hispanic professionals naturally possess (immigrant perspective, circular vision, Latin passion, entrepreneurial spirit, generous purpose and cultural promise). According to Llopis, "it's no longer enough to be a Hispanic who assumes a leadership role in the workplace. The workplace must allow Hispanic professionals to be their natural and whole selves so they can best contribute to the reinvention and renewal of America's corporations. As companies seek to broaden their Hispanic market reach, the need to unleash the untapped talent of Hispanic professionals and their authentic leadership is at an all-time high. This is especially important when you consider that Hispanics are not only the fastest growing workplace community in America, but that our purchasing power is estimated to reach $1.3 trillion by 2014."
The Tour's mission is to create greater awareness and an educational platform toward building a global workplace that will give Hispanic professionals new purpose, put a premium on sustainable innovation, and maintain ethical leadership on driving new levels of performance. In each Tour city, a selected university partner will host three days of activity that will include a thought-leadership symposium (Day 1) and CHL's flagship Hispanic leadership development workshop: Discover Your Hispanic Leadership Impact and Influence (Day 2-3). CHL's goal is to secure the attendance of corporate executives and their Hispanic professionals to take part in the conversation that will be propelled by the following core discussion topics during the Day 1 symposium: 1) Why Hispanic Leadership Matters in Today's Brave New Workplace; 2) Hispanic Talent and Hispanic Market Development Represent Two Sides of the Same Coin; and 3) Diversity Initiatives Must Move into the C-Suite Leadership Agenda. Through the Tour's university partnership program, CHL is also encouraging the participation of university leaders and their Hispanic student body to better understand their role in building the required infrastructure to support the development of next generation Hispanic leaders.
In an effort to begin this important conversation, Mr. Llopis, has released his new eBook, The Six Reasons Why Hispanic Leadership will Save America's Corporations – that is available as a free download at the official tour website - http://www.HispanicLeadershipTour.com. Llopis reveals why Hispanic professionals have the unique opportunity to assume leadership roles in today's new economy that is being shaped by a fiercely competitive global market. Readers will learn why Hispanic leadership will redefine corporate leadership, and why Hispanic leadership will propel workplace innovation to better serve the increasingly diverse marketplace. In sum, this eBook will propel a renewed awakening of the powerful immigrant mentality and why Hispanic leadership is both a business and societal imperative for America to grow and prosper.
"We have reached a pinnacle stage in America that requires a new enlightened form of leadership to renew the ways we must think, act and innovate in the workplace. Hispanic professionals are in a unique position to assume this role. At CHL, we are determined to lead this paradigm shift and activate the voices of all multicultural groups whose leadership is ready to be unleashed to save America's Corporations," concludes Llopis.
About The Center for Hispanic Leadership
The Center for Hispanic Leadership is a Southern California-based organization that provides leadership development programs to corporations for the advancement of their Hispanic professionals. The Center was founded by Mr. Glenn Llopis, a former corporate executive and author of Earning Serendipity: 4 Skills for Creating and Sustaining Good Fortune in Your Work. Earning Serendipity addresses how to best see and seize opportunities to propel sustainable innovation in today's brave new workplace.
###