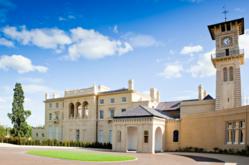 We are absolutely delighted to receive awards for The Garden Quarter and Bentley Priory.
(PRWEB UK) 27 June 2013
The leading heritage developer was awarded the Best Starter Home in the 2013 Evening Standard Homes and Property Awards for its latest development, The Garden Quarter in Bicester and in the same week was also highly commended for its exceptional conversion and renovation of Bentley Priory, the former HQ for the Battle of Britain in Stanmore, Middlesex.
Helen Moore, Managing Director of City & Country commented: "We are absolutely delighted to receive awards for The Garden Quarter and Bentley Priory. Our dedicated team have worked tirelessly to deliver homes which are exceptional in design and finish, but more than that they have breathed new life into nationally important yet redundant listed buildings, which have now been brought back into beneficial use for the enjoyment and benefit of current and future generations. These awards are a are testament to the care, creativity and hard work that is used when creating each and every one of our properties."
The LABC Building Excellence awards are all about the essence of good buildings so the finalists are not only judged on the aesthetic look of the building but also from a construction and technical point of you. The awards showcase buildings and design teams that have presented innovative and creative solutions even when faced with technically challenging sites.
Now in its 22nd year, the Evening standard Homes and Property Awards continue to celebrate the skills of the new homes industry. Judged by Evening Standard readers as well as industry experts, the awards cover 10 categories and recognise excellence across the housing spectrum - from first-time buyer flats to millionaires' mansions. Judges stated that the development 'Blew them away' when they saw the exceptional quality and design of The Garden Quarter.