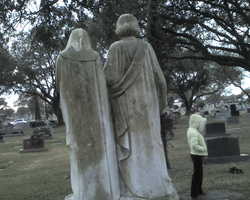 Sugar Land, TX (PRWEB) July 6, 2010
A revolutionary new historic preservation program launched by Spray & Forget is set to save countless monuments, as well as old cemetery head stones.
Mark Herfort, president of Morton Cemetery Association, says, "Many times there are no family members to care for the older stones and monuments in the cemetery, leaving maintenance to the Association. Your product will certainly help make maintenance more manageable. We extend our deepest appreciation and gratitude for your donation."
In June 2010, Spray & Forget launched a historic preservation program to partner with historical committees. Realizing that traditional methods of cleaning historical surfaces by pressure washing or sand blasting is very damaging to the surface, it developed a new program to donate Spray and Forget products to historical committees through the end of August.
Scott Dudjak, owner and inventor of Spray & Forget commented, "I strongly believe that our history is extremely important, as it demonstrates how we have evolved and where we came from. There are also many lessons to be learned from our history. It is the basis of all generations to come. Our historical landmarks need to be preserved so that we can continue to pass them on to our children and the many generations to come."
Spray and Forget is a no-rinse, eco-friendly exterior cleaner. It removes the black streaks and green stains caused by algae, mildew, mold, and moss. It is a very unique product that is sprayed on, and Mother Nature does the rest. It is an easy one-step process. It works great on old cemetery head stones, as well as brick, stucco, wood, treated decks, and other exterior surfaces. It is safe and simple.
Spray & Forget does not contain any bleach, lye, phosphates, or acid.
Spray and forget is based in Richmond, Texas and has been providing easy-to-use, highly effective and eco-friendly products since 2002.
Spray & Forget is currently available in approximately 5,000 retail outlets including select Ace Hardware, True Value Hardware, Do It Best and in Florida Home Depot stores in the roofing Materials section.
For more information about this historic preservation program or to purchase the product, visit the Web site. Spray and Forget will soon be used to clean up old cemetery head stones throughout the world!
###