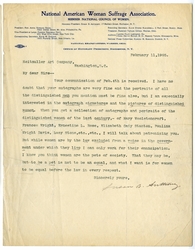 I know you think women are the pets of society. That they may be, but to be a pet is not to be an equal, and what I want is for women to be equal before the law in every respect." - Susan B. Anthony
Philadelphia, PA (PRWEB) September 24, 2010
The Raab Collection, the nation's leading dealer in important historical autographs, announced today that it has discovered and will offer for sale an unpublished and previously unknown letter of women's rights leader Susan B. Anthony in which she rebels against the treatment of women as "pets." The letter, valued at $15,000, is addressed to a man offering to sell her autographs of important historical figures, and not one woman was among them.
Excerpts, Letter of Susan B. Anthony, Rochester, NY February 11, 1905:
"When you get a collection of autographs and portraits of the distinguished women of the last century… I will talk about patronizing you. But while women are by the law excluded from a voice in the government under which they live," Anthony writes, "I can only work for their emancipation. I know you think women are the pets of society. That they may be, but to be a pet is not to be an equal, and what I want is for women to be equal before the law in every respect."
"The tone of this letter reflects Anthony's anger that among the names of the great figures in American history, her correspondent could not find one woman," said Nathan Raab, Vice President of The Raab Collection and expert on important historical autographs. "The theme of women being treated like pets bothered Anthony and stuck in her mind. This is a revealing historical discovery and one that sheds more light on the powerful emotions of the fight to grant women equal rights."
The Raab Collection has handled many of the most important historical autographs to reach the market and has represented the families of many famous Americans, among them Thomas Jefferson, Dwight Eisenhower, and Gerald Ford, in the sale and preservation of their important historical documents.
You can watch a video documenting the emotional aspects of historical autographs.
###