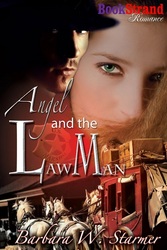 "How anyone could resist the pull of this story and not want to finish it all in one sitting, I have no idea." Dark Diva's Review
Missoula, MT (PRWEB) March 26, 2010
"Angel and the LawMan" (Bookstrand Mainstream Romance Publishing / 1606015389 / March 2010 / 268 pages / $15.50) is the first in a series of life changing, grab your heart, suck you back in time western romances that Ms. Starmer is introducing to western romance enthusiasts.
"Angel and the LawMan" is the merger of suspense, mystery and heart-pounding romance that blooms in spite of the aggression and uncertainty of 1895.Her strong feminine voice, and mysterious hero will capture your heart from beginning to end.
"If you put this book down before finishing it then I haven't done my job," says Starmer, who is the author of "UnderCover," SciFi Finalist "Mirrors of the Heart" and several children' s articles coming out this year. "I want love to bloom no matter what the circumstances.Let's be honest, life is messy now and in the past. I want readers to feel the story- not just read it."
In "Angel and the LawMan", young Alexandra O'Shay travels from Ireland to America, venturing into the wild west. A chance encounter with a mysterious man in black casts doubt over her decision to come to America, but a train robbery brings them together in ways neither expected. With a reputation for honesty and a fast gun, Marshal James Black takes on a new challenge and a new attitude toward women. Alexandra is not only beautiful, but a survivor- and that intrigues him more than he likes. Relationships have proven fatal in the past. Will this be any different?
Reviewers give "Angel and the LawMan" 5 Delightful Divas (stars). "The story plays out well and with a wonderful plethora of detail that I find totally absorbing. How anyone could resist the pull of this story and not want to finish it all in one sitting, I have no idea. I certainly couldn't. It made for a great afternoon's read."-- "Dark Diva's Reviews"
Starmer will release the sequel to "Angel and the LawMan" in December following the release of two children' s shorts called "The Magic Frog" and "The Adventures of Faegon." Her new science fiction novel "Redemption" should be out late 2010 or early 2011. Barbara keeps busy with numerous short stories published in the magazine and online markets. She lives in Missoula, Montana with her husband, 3 cats and two horses that inspire her western fiction.
"Angel and the LawMan" is available at Amazon and Barnes and Nobel in both ebook and paperback. Visit Barbara's website at: http://www.starmercreativeminds.com for more information and any updates.
To schedule and interview or receive a review copy of "Angel and the LawMan" please contact BW Starmer at (406)-829-3532 or bwstarmer(at)starmercreativeminds(dot)com
###
.