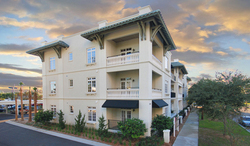 The younger workforce and empty nesters don't want to live miles from work or a grocery store. They want to park their car all weekend if not all week
Jacksonville, FL (PRWEB) March 25, 2010
Florida real estate developer Cranewoods Development announced the sellout of their award winning loft project, The Chelsea, in the Riverside Historic District of Jacksonville Florida.
The Chelsea was the first of its kind in the area, combining classic exterior architecture with cutting edge contemporary interiors. Located in a highly walkable neighborhood, with cutting edge urban loft details like wide open spaces, stained concrete floors, quartz countertops in contemporary kitchens and artistic details like glazed tile entry walls; The Chelsea Lofts only reveal themselves when inside the classic turn of the century Florida styled exterior. The project was the recipient of four design and construction awards including recognition for the best architecturally compatible new construction by the Jacksonville Historical Society.
"We felt the Jacksonville market really wanted an ultra contemporary urban loft option, and Riverside, with its convenience and walkability, was the perfect location," said Andrew Howe of Cranewoods. "To sell out the lofts in these tough economic times, shows we were right."
This year, condominium sales across Florida are up 80% over the same time last year and Howe believes quality projects in mixed-use locations are in an even better position. "Many suburban areas and vacation spots will see further challenges in the near term but there's real demand for well built innovative design in the urban core. People want the conveniences and realize they won't be sacrificing quality of life," Howe says. He points to changing demographics and changing needs. "The younger workforce and empty nesters don't want to live miles from work or a grocery store. They want to park their car all weekend if not all week."
Those changes, Howe points out, are true whether you are talking about Jacksonville Florida or Cincinnati Ohio. Cranewoods provides its real estate consulting services to both markets. "Those are national trends. Not local or regional ones," he states, and emphasizes that the current economy may adjust the trend but does not stop it.
Developers and sellers still face a number of hurdles in selling no matter the quality and location. Howe explains, "There's an abundance of housing in a deep recession and there's no getting around that. Sellers, lenders and investors need every tool available: renegotiating loans, price cutting, new ways to market...the list goes on."
Cranewoods has a reputation for creating architecturally unique projects in high demand walkable neighborhoods. Beyond development, their services include consulting to investors, banks and other developers on nearly every aspect of a project from financing and pre-design to distressed loan workouts and marketing.
About Cranewoods Development:
Andrew Howe, President of Cranewoods Development, is an award winning developer, general contractor and real estate consultant with over 35 years experience. Cranewoods offers full service real estate consulting to lenders and investors. Services include: development consulting, bank loan workout solutions, court appointed receiver, turn-key development management, construction management and general project problem solving. To explore Cranewoods further, visit: http://cranewoods.com or follow them on Facebook at http://Facebook.com/CranewoodsDevelopment
Jacksonville, FL | Cincinnati, OH.
PH: 513-257-0749 | 904-758-3434
###