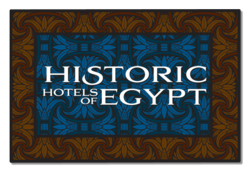 Historically Egyptian Authentically Yours
Egypt,Cairo (PRWEB) December 20, 2012
Historic Hotels of Egypt announced the launch of a new experiential website at HISTORICHOTELS.COM.EG that encourages visitors to spend more time interacting with the company online. The aim of this site is to get engage users and involve them in exploring and learning about these extraordinary landmarks.
The Historic Hotels of Egypt, owned by the Egyptian General Company for Tourism and Hotels (EGOTH) Chaired by Eng. Essam Abdel Hady, a subsidiary of the state owned Holding Company for Tourism, Hotels and Cinema (HOTAC), have been recognized for their historical or architectural significance, or their interesting story behind them – many were popular with key figures over the years including Sir Winston Churchill, Princess Diana and Agatha Christie.
The new website is fresh, fun, interesting, and easy to use. It contains useful information, historical background, vintage photos, eye-catching graphics, and has been designed with the user firmly in mind, so that they find it easy to navigate the site.
"Although we wanted to keep the look and feel of Egyptian history in the design of the website, we also ensured the graphics and user-friendliness of the site were not harmed," said Chairman Eng. Essam Abdel Hady. " We are convinced that we have accomplished this task and are quite sure that you will be also. The site incorporates the most advanced technology, so that you will have little problem in searching and surfing through its corridors. Some of the new features the Historic Hotels Of Egypt's website includes mainstream social media links, review links such as TripAdvisor, Facebook ,Youtube and twitter . Since their launch on DECEMBER 1, 2012 they have seen nearly 2,000 visitors and have had over 12,000 page views", he added
Abdel Hady has also stated: " The iconic hotels within this collection play an important role in Egypt's history and the tourism industry and it is our mission to preserve these exquisite national treasures. With significant investment and dedicated restoration projects for each of these landmark properties over the next three years, we will ensure that these prestigious hotels stand glorious for generations to come, whilst still retaining their individuality."
Historic Hotels of Egypt (http://www.historichotels.com.eg) boasts a number of exciting features that embrace visitors' passion points and provides a technically-advanced and user-friendly environment for exploring the brand's portfolio of 9 exquisite hotels in more than 4 Cities in Egypt. The look, feel, and practicality of the website, as well as its rich, high quality images and content, make it one of the best interactive sites you are likely to find on the web. Visit today to find out more about the Historic Hotels of Egypt.
For further information on the Historic Hotels of Egypt collection visit http://www.historichotels.com.eg join us on Facebook Fan Page: Historic Hotels of Egypt. Check out our YouTube Channel : HistoricHotelsEgypt