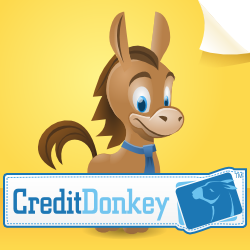 popular payment method of choice
Los Angeles, CA (PRWEB) September 15, 2011
CreditDonkey today launched a new infographic illustrating the interesting history of credit cards, reminding consumers that while credit cards have become the popular payment method of choice by many, the modern day credit card is fairly new compared to other forms of payment.
Infographic: http://www.creditdonkey.com/history-of-credit.html
As revealed by the colorful graphic, credit cards have existed in many forms from metal coins to metal plates to paper to plastic. As the materials evolved, so have the uses and terms of the card, with some of the developments including the following:

3000BC: credit is first used in Assyria, Babylon and Egypt
1887: Socialist writer Edward Bellamy coins the term "credit card" in his novel "Looking Backward"
Early 1900s: Large hotels and department stores issue paper cards to their important customers
1920s: Gas stations begin to give customers gas credit cards for use when purchasing gas
1949: Diners Club creates the first general merchandise charge card and charges merchants a 7% fee per transaction
1958: BankAmericard, the first true credit card with revolving credit is introduced; the card is limited to use in California due to federal banking regulations. This is also the first card that has a mass mailing preapproval
1958: American Express is launched; it does not offer revolving credit and is the first card accepted worldwide
1966: Bank of America introduces the first general purpose credit card that has multi-state acceptance; the card is renamed VISA in the 1970s
1967: Master Charge is created by four banks in California to compete with Visa
1986: Sears, Roebuck, and Co. launch the Discover Card
1990s: Credit cards with rewards and business services start to grow in popularity
The infographic also delves into other interesting credit card details including which cards reign supreme, the current outlook on rates and the future of credit cards.
Most common cards
As described through the credit card history timeline, department stores and oil companies paved the way for the modern credit card. But those aren't the most popular credit cards in the modern day consumers' wallets. Instead, Visa is the most common card, with 104 million consumers carrying the card; Visa has issued more than one billion cards over the life of the company. The next most popular are the store cards with 99 million consumers, and then there is MasterCard with 83 million consumers. Some of the least common cards are Discover (42 million) and American Express (36 million).
Rates are on the rise
As illustrated by the infographic, credit card rates have been on the rise in recent years. In January of 2009, the average subprime rate was 21.67%; one year later, the average jumped to 26.01%.
The same is true for prime and promotional rates, which weighed in at 13.77% and 2.66% respectively in January of 2009, and were at 15.44% and 5.77% in January of 2010.
The Future of Credit Cards
PayPal paved the way for advancements in the payment industry when it was launched in Palo Alto in 1998, allowing for members to easily make and receive payments online. And as technology continues to advance, so do the payment solutions. Here are just three that are currently underway, as depicted by the infographic:

Mobile payment technologies that can plug into smart phones to convert them into credit card processing devices
Webcam compatible programs that will allow anyone with a webcam to accept credit cards
Mobile phone apps that allow shoppers to check out without having to swipe their card
"It's important for consumers who utilize credit cards to keep an eye on changes within the industry," said Charles Tran, founder of CreditDonkey. "Trends among credit cards are going to dictate future advancements as well as how much we're paying whether it's through interest rates or fees. We want to make sure consumers have this information so they can take it into consideration when they choose which cards to use for their purchases."
Consumers can visit CreditDonkey to find the best credit cards regardless of their personal history. CreditDonkey publishes credit card research to help consumers make informed credit decisions.
###