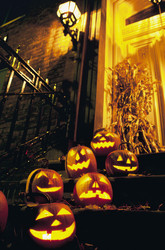 New York (PRWEB) October 20, 2008
There are no tricks, just treats on Halloween this year with the newly updated 'History of Halloween' minisite on History.com (http://www.history.com/halloween ). The interactive Web site looks at the holiday from all angles, from the ancient origins of Halloween to modern traditions and superstitions.
Content featured on the site includes:

Video - Several video features are available on the site, including a seven-part series exploring historical Halloween costumes - those done wrong and those done right, and tips for creating authentic historical costumes; a five-part short form series provides an inside look into the brain functions that occur when we purposely let ourselves be scared; as well as video exploring Halloween's history.
Pumpkin Carving - People have been making jack o'lanterns for centuries, originating from an Irish myth about a man with the nickname "Stingy Jack" who played tricks on the Devil and ended up roaming the Earth with only a burning coal he carried in a carved-out turnip. In addition to learning the rest of the legend, visitors to the minisite can watch a five-part short form video series exploring the basics of pumpkin carving along with inspiring demonstrations from Stephen Clarke, a Guinness Book of World Records holder.
Additional Content - Includes trivia, images of costumes throughout the ages, Historic Haunts (tales of supposed hauntings at the White House and in Philadelphia), the Hidden Spirits Interactive Game (where users can conduct a series of investigations in a hotel that has a history of paranormal activity), a forum to discuss the history of Halloween and more.
About History
History™ and History HD™ are leading destinations for revealing, award-winning original non-fiction series and event-driven specials that connect history with viewers in an informative, immersive and entertaining manner across multiple platforms. Programming covers a diverse variety of historical genres ranging from military history to contemporary history, technology to natural history, as well as science, archaeology and pop culture. Among the network's program offerings are hit series such as Ax Men, Battle 360, The Universe, Cities of The Underworld and Ice Road Truckers, as well as acclaimed specials including King, Life After People, 1968 with Tom Brokaw, Lost Book of Nostradamus, Star Wars: The Legacy Revealed and Sherman's March. History has earned four Peabody Awards, four Primetime Emmy® Awards, 12 News & Documentary Emmy® Awards and received the prestigious Governor's Award from the Academy of Television Arts & Sciences for the network's Save Our History® campaign dedicated to historic preservation and history education. Take a Veteran to School Day is the network's latest initiative connecting America's schools and communities with veterans from all wars. History's Web site, located at http://www.History.com , is the definitive historical online source that delivers entertaining and informative content featuring broadband video, interactive timelines, maps, games, podcasts and more.
###