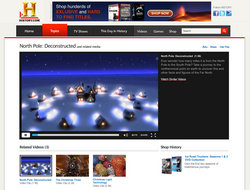 New York, NY (PRWEB) November 24, 2010
To celebrate the holidays, History.com's minisites for Thanksgiving, Christmas, Hanukkah and Kwanzaa tell the story of each holiday--including history, fun facts and traditions--through brand-new videos, photos and updated articles.
Also, just in time for the holiday season, History.com has created original online videos as part of its "History: Deconstructed," a new online series that gives viewers facts and figures on history's most famous places, statues and structures.
Some examples of content featured on History.com's holiday pages are:

Thanksgiving Fact or Fiction – 10 questions to test your knowledge of the myths that surround this invented holiday.
Mayflower: Deconstructed – Get all the facts about the Mayflower's journey to Plymouth and the people it carried to the New World.
The Mayflower: - Singer-songwriter Jeffrey Lewis tells the real story of the Pilgrims' voyage with original music and cartoon artwork.
Hanukkah foods: latkes – Take a trip with Fat Dave as he visits Clinton Street Bakery where they make the most traditional Hanukkah food-latkes.
History of Hanukkah – Examines the origins of the holiday.
Hanukkah traditions – Including the Menorah, latkes, dreidels and sufganiyot (fried jelly doughnuts).
North Pole: Deconstructed – Get all the details on the North Pole, from where all those letters to Santa really end up to just how cold it gets each winter.
Christmas traditions – Find out how Christmas is celebrated all over the world.
The histories of Christmas, Christmas trees and Santa –The histories of Christmas, Christmas Trees and Santa Claus – Find out all you ever wanted to know about these time-honored traditions. Learn how Christmas has been celebrated, or not celebrated throughout the years; where the story of Santa came from, and why people started decorating trees for Christmas.
History of Kwanzaa – The history of the holiday, and how it is celebrated, from the Seven Principles to the Seven Symbols.
About HISTORY
HISTORY™ and HISTORY HD™ are the leading destinations for revealing, award-winning original non-fiction series and event-driven specials that connect history with viewers in an informative, immersive and entertaining manner across multiple platforms. Programming covers a diverse variety of historical genres ranging from military history to contemporary history, technology to natural history, as well as science, archaeology and pop culture. Among the network's program offerings are hit series such as American Pickers, Ax Men, The Universe, Ice Road Truckers, Chasing Mummies, Top Shot and Pawn Stars, as well as acclaimed specials including America The Story Of Us, WWII In HD, 102 Minutes That Changed America, Moonshot and Life After People. HISTORY has earned four Peabody Awards, seven Primetime Emmy® Awards, 12 News & Documentary Emmy® Awards and received the prestigious Governor's Award from the Academy of Television Arts & Sciences for the network's Save Our History® campaign dedicated to historic preservation and history education. Take a Veteran to School Day is the network's latest initiative connecting America's schools and communities with veterans from all wars. The HISTORY website, located at http://www.history.com, is the leading online resource for all things history, featuring over 20,000 videos, images, audio clips, articles and interactive features that allow visitors to dig deeper into a broad range of thousands of historical topics.
About AETN Digital
AETN Digital Media, a division of A&E Television Networks, LLC, is a leading provider of digital content for properties including History, Lifetime, A&E, Biography, Roiworld, DressUpChallenge, Lifetime Moms and MothersClick. More than 13 million unique visitors per month engage with the company's digital brands across 14 properties, and millions more consume the content via syndication, social media and mobile.
# # #