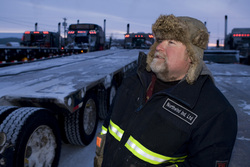 New York, NY (PRWEB) July 2, 2008
HISTORY™ today announced that new, exclusive content is available at http://www.history.com/iceroadtruckers, a minisite that provides profiles on the people and places featured in the HISTORY American Original series ICE ROAD TRUCKERS, which airs on Sundays at 9pm ET/PT.
The minisite for season two of the hit series features exclusive short-form videos, trivia, exclusive interviews and more. The site also includes a selection of videos, maps, interviews and other digital content from season one that can be accessed in the minisite's archives. New features of the minisite include:

Ice Road Backdrop Builder - An interactive feature that allows users to create and download wallpapers including customizable Arctic environments (time of day, weather conditions, etc.).
Cold Weather Survival Guide - Tips on how to stay warm and avoid injury, and info on dangerous cold-weather myths.
All About Inuvik and Tuktoyaktuk - In-depth information about the towns where the new season takes place.
Technology of the Ice Road - Information outlining the differences in building roads over a lake vs. a river or ocean.
The new season follows some of the truckers from last season, along with new drivers, as they haul essential equipment and supplies to remote outposts across one of the world's last great frontiers, the vaunted winter ice road that runs over the frozen Arctic Ocean and the Mackenzie River in the farthest reaches of the Northwest Territories. The long history of survival here during the grueling winter months has been and still is dependent on these ice roads. Although technology has changed how they deal with the titanic forces of nature of the Arctic Circle, the native people of the region still live by their traditions and rich history.
For a brief window during the coldest part of the winter, the only way to reach the remote communities and natural gas exploration sites of this region, which lies more than 200 miles north of the Arctic Circle, is by driving over an extraordinary ice road that winds along the Mackenzie River. Contending with Arctic storms that hit without a moment's notice, even the most seasoned truckers find themselves challenged by the extreme polar conditions, isolation and the lack of basic comforts. Temperatures during the winter months here can dip as low as -60.
Executive Producers for History™ are David McKillop and Dolores Gavin. ICE ROAD TRUCKERS is produced by Original Productions. Executive Producers for Original Productions are Thom Beers and Philip Segal.
History™ and History HD™ are the leading destinations for revealing, award-winning, original non-fiction series and event-driven specials that connect history with viewers in an informative, immersive and entertaining manner across multiple platforms. Programming covers a diverse variety of historical genres ranging from military history to contemporary history, technology to natural history, as well as science, archaeology and pop culture. Among the network's program offerings are hit series such as Ax Men, Battle 360, The Universe, Cities of The Underworld and Ice Road Truckers, as well as acclaimed specials including King, Life After People, 1968 with Tom Brokaw, Lost Book of Nostradamus, Star Wars: The Legacy Revealed and Sherman's March. History has earned four Peabody Awards, three Primetime Emmy® Awards, 10 News & Documentary Emmy® Awards and received the prestigious Governor's Award from the Academy of Television Arts & Sciences for the network's Save Our History® campaign dedicated to historic preservation and history education. Take a Veteran to School Day is the network's latest initiative connecting America's schools and communities with veterans from all wars. History's website, located at http://www.History.com, is the definitive historical online source that delivers entertaining and informative content featuring broadband video, interactive timelines, maps, games podcasts and more.
Press Note: For more information and photography please visit us on the Web at http://www.historychannelpress.com.
###