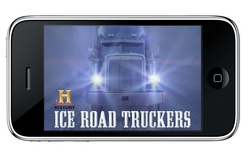 Ice Road Truckers has developed a very loyal fan-base worldwide, and viewers are keen to engage with the series in any way they can
New York, NY (PRWEB) June 23, 2009
Viewers have the chance to steer the icy roads of HISTORY™'s #1 series, Ice Road Truckers, with the launch of the network's first paid iPhone and iPod Touch application. Based on the award-winning show, the official Ice Road Truckers iPhone App allows users to command huge 18-wheelers across the icy Arctic roads, hauling their load to the final destination before time runs out.
A free "light" version of the Ice Road Truckers application is currently available worldwide in Apple's iTunes stores and has been downloaded more than 680,000 times worldwide, with nearly 350,000 of those downloads in the US. The paid version of the app will launch on June 28th for $3.99. The paid version of the game will offer players more game options with the ability to choose different routes, trucks, loads and more.
"Ice Road Truckers has developed a very loyal fan-base worldwide, and viewers are keen to engage with the series in any way they can," said Kate Winn, Vice President, Home Entertainment, A&E Television Networks. "This Ice Road Truckers game app is the perfect way for fans to interact with the program. It's a great promotional tool for the series and another opportunity for us to attract new viewers."
In the game, users can drive some of the most powerful trucks on earth across the frozen roads from Inuvik to Tuktoyaktuk. The goal is stay on the road, avoid all obstacles, and reach the final destination before time runs out. Extra time earns extra money, but if the clock winds down first, users won't advance to the next level. Customizable options with driving helps and a time trial mode will also be available.
The Ice Road Truckers application was published by Slitherine.
The third season of Ice Road Truckers premiered on May 31st in front of 3 million total viewers, 1.9 million Adults 25-54 and 1.7 million Adults 18-49. Airing each Sunday at 9 p.m. ET/8 p.m. CT, the new season brings the series to Alaska and chronicles the incredible challenges and history of this fascinating region. Ice Road legends Hugh "Polar Bear" Rowland and Alex Debogorski return and are joined by their co-workers at Carlile Transportation George Spears, the "King of the Haul Road," and fearless Jack Jesse as well as ice road rookie Tim Freeman and Lisa Kelly, the first full-time female driver to be seen in the series.
Ice Road Truckers airs worldwide on HISTORY in the UK, Spain and Portugal, Germany, Israel, Scandinavia, the Benelux, Central Europe, Greece, Turkey, Africa, Latin America, Japan, and South East Asia.
The series has also been licensed to FIVE (UK), Fox 8, Network Ten (Australia), History Television (Canada), AFRTS (US), RTL Televizija (Croatia), TV2 (Denmark), TV4 (Sweden), MTV3, Subtv (Finland), W9 (France), RTL (Germany), TV3 (Ireland), Viasat (Estonia, Lithuania), and V4 (Norway), M6 (France), TV3 (New Zealand), RTL Klub (Hungary), RTL4, RTL 5, RTL 7 and RTL 8 (The Netherlands and Luxembourg).)
Ice Road Truckers is produced for HISTORY by Original Productions, a FremantleMedia Company. Executive Producer for Original Productions is Thom Beers; Co-executor Producers are Philip Segal, Jeff Conroy and Dawn Fitzgerald. Executive Producer for History is Julian P. Hobbs.
Along with a link from which fans can download the iPhone application, the Ice Road Truckers minisite at History.com features new short-form videos, a trucker video mash-up, a fun 'Truckerize Your Name' feature, photos and more.
About HISTORY™
HISTORY™ and HISTORY HD™ are the leading destinations for revealing, award-winning original non-fiction series and event-driven specials that connect history with viewers in an informative, immersive and entertaining manner across multiple platforms. Programming covers a diverse variety of historical genres ranging from military history to contemporary history, technology to natural history, as well as science, archaeology and pop culture. Among the network's program offerings are hit series such as Ax Men, Battle 360, The Universe, Cities of The Underworld and Ice Road Truckers, as well as acclaimed specials including 102 Minutes That Changed America, King, Life After People, 1968 with Tom Brokaw, Nostradamus: 2012 and Star Wars: The Legacy Revealed. HISTORY has earned four Peabody Awards, four Primetime Emmy® Awards, 12 News & Documentary Emmy® Awards and received the prestigious Governor's Award from the Academy of Television Arts & Sciences for the network's Save Our History® campaign dedicated to historic preservation and history education. Take a Veteran to School Day is the network's latest initiative connecting America's schools and communities with veterans from all wars. The HISTORY web site, located at http://www.history.com, is the definitive historical online source that delivers entertaining and informative content featuring broadband video, interactive timelines, maps, games, podcasts and more.
###