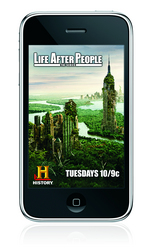 AETN has already seen great success with A&E Network's Paranormal State application, and we plan to roll out a number of new applications in the near future.
New York, NY (PRWEB) April 22, 2009
What would happen to the world if all human beings disappeared? History™ has today launched its first iPhone and iPod Touch application, the Life After People Photo Ager, which helps answer that question. The free application - available for download at Apple's iTunes store - allows users to "age" images which can be saved or shared with friends.
History's new weekly television program Life After People premiered last night and airs Tuesdays at 10 p.m. ET/9 p.m. CT. In ten one-hour episodes, the original series will use history's lens to provide clues to what would happen if humans vanished from the earth, including what remnants of the industrialized world would survive, what would crumble fastest and more.
"As a two-hour special, Life After People was the top show on cable when it premiered, connecting with our viewers and setting a record rating for History, and we are excited about building on that success with Life After People the series," said Nancy Dubuc, Executive Vice President and General Manager of History. "This iPhone application is a great way for existing fans to connect and interact with the program, as well as an engaging tool that we can use to promote the show and attract new viewers."
The Life After People Photo Ager is simple to use. Photos can be imported from the user's own photo library, or users can take their own new photos to "age." Also part of the application is a "Location Explorer" that lets users page through a unique photo gallery of famous locations - all accompanied by historical descriptions - and then slide a finger along a scroll bar to visually progress its aging process in order to see what it would look like after people. Customizable postcards allow users to share an aged photo, along with a personalized message, with friends. Each postcard contains a link to the iTunes application store, so recipients can download their own copy of the application, as well as show tune-in information and a link to the Life After People minisite at History.com. Visitors to the minisite can find interactive timelines and quizzes (following the airing of each episode), short-form videos and more information about the show.
"The iPhone app store provides another place where viewers and consumers of our content can connect with our brands in new, more immersive ways, whether through gaming, interactivity or a deeper exploration of our programming genres," said Steve Ronson, Executive Vice President, Enterprises, for A&E Television Networks (AETN). "AETN has already seen great success with A&E Network's Paranormal State application, and we plan to roll out a number of new applications in the near future."
A&E's Paranormal State EMF Reader launched in January , in conjunction with the season premiere of A&E Network series Paranormal State. Like the EMF Reader, the Life After People application was developed by Moderati, a Bellrock Media Inc. Company.
Life After People is produced by Flight 33 Productions for History. The executive producer for History is Paul Cabana.
About History:
History™ and History HD™ are leading destinations for revealing, award-winning original non-fiction series and event-driven specials that connect history with viewers in an informative, immersive and entertaining manner across multiple platforms. Programming covers a diverse variety of historical genres ranging from military history to contemporary history, technology to natural history, as well as science, archaeology and pop culture. Among the network's program offerings are hit series such as Ax Men, Battle 360, The Universe, Cities of The Underworld and Ice Road Truckers, as well as acclaimed specials including 102 Minutes That Changed America, King, Life After People, 1968 with Tom Brokaw, Lost Book of Nostradamus and Star Wars: The Legacy Revealed. History has earned four Peabody Awards, four Primetime Emmy® Awards, 12 News & Documentary Emmy® Awards and received the prestigious Governor's Award from the Academy of Television Arts & Sciences for the network's Save Our History® campaign dedicated to historic preservation and history education. Take a Veteran to School Day is the network's latest initiative connecting America's schools and communities with veterans from all wars. History's Web site, located at http://www.History.com, is the definitive historical online source that delivers entertaining and informative content featuring broadband video, interactive timelines, maps, games, podcasts and more.
# # #