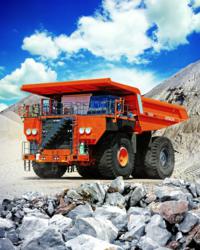 (PRWEB) October 26, 2012
Officially released at MINExpo International 2012 in Las Vegas, Nevada, the Hitachi EH5000AC-3 rigid dump truck features Hitachi's new Advanced IGBT AC Drive System that delivers an unrivalled level of efficiency. Originally developed by Hitachi and built in the same factory as its mining trucks, this unique drive control system powers Japan's renowned Shinkansen bullet trains.
The Hitachi EH5000AC-3 is the company's largest rigid dump truck and one of the most sophisticated mining haulers on the market. It incorporates a Cummins QSKTTA60-CE diesel engine that generates 2,125 kW (2,850 HP) at 1,900 rpm and meets EPA Tier 2 emission requirements. The all-hydraulic actuated braking system provides precise braking control and quick system responses, and a new Hitachi system monitor displays information and diagnostics of all onboard systems and controls.
The most significant update is the truck's new AC Drive System. At the core of the new system is the innovative propulsion technology which delivers an entirely new level of efficiency, boosting hauling capabilities for mining operators globally. AC Drive proven performance and economic advantages combined with a high powered engine and the truck's long-frame life, mining operators will benefit from better performance, higher availability, and significant reductions in maintenance and operating costs.
The new technology outperforms previous systems to provide optimal stability, improved efficiency, and enhanced reliability. It features:

Slip control for excellent traction
Slide control with anti-lock brakes for improved stability
Pitch control provides rebounding ride-control (greater control of bouncing when stopping)
Skid control for stability in cornering when road conditions are slippery
Utilising existing slip/slide controls on Hitachi trucks with Hitachi AC Drive Systems, the new Drive System now features sensors on all four wheels. It incorporates additional feedback from the drive system, front wheels, steering, suspension, and other systems on the truck to enhance the slip/slide control feature. New control systems in the EH5000AC-3 include the pitch control feature for improved comfort and frame reliability, and skid control to enhance stability and steering correction to keep operators on track.
Other key improvements to the EH5000AC-3 have been designed to ensure the highest level of safety. Superior visibility around the machine perimeter has been achieved through the integration of strategically positioned mirrors and cameras, as well as wider front glass in the cab. A new high arch design with bolt fastened cab support requires reduced assembling time and streamlined serviceability during engine overhaul.
Hitachi Construction Machinery is the only industry player that designs and manufactures all components of its drive control system. The company started producing its own drive system four years ago with the introduction of the EH3500ACII, and has continued to create vast enhancements to this technology.