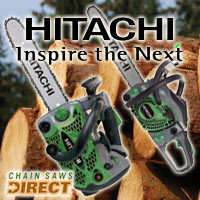 These new Hitachi chainsaws have enough power to tackle any professional job, yet they are equipped with several usability features, which makes them a great choice for any homeowner as well
Bolingbrook, IL (Vocus) July 28, 2010
ChainSawsDirect.com is expanding its online chain saw product offering with the inclusion of Hitachi chainsaws.
With the addition of this new product line, the commercial gas chain saw category now features a wider offering.
"These new Hitachi chainsaws have enough power to tackle any professional job, yet they are equipped with several usability features, which makes them a great choice for any homeowner as well," said Jon Hoch, founder and CEO of Power Equipment Direct, the parent company of ChainSawsDirect.com.
In addition to carrying Hitachi chain saws, ChainSawsDirect.com also carries a complete line of Husqvarna, Earthwise, Poulan and Tanaka chain saws, plus a wide selection of chain saw accessories and safety equipment.
Power Equipment Direct operates nine niche online superstores. In addition to ChainSawsDirect.com, the Bolingbrook, IL-based company operates AirCompressorsDirect.com, ElectricGeneratorsDirect.com, PressureWashersDirect.com, SnowBlowersDirect.com, MowersDirect.com, WaterPumpsDirect.com, SumpPumpsDirect.com and LogSplittersDirect.com.
# # #