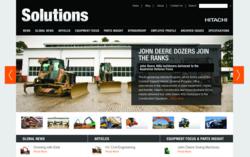 (PRWEB) August 09, 2012
Hitachi Construction Machinery (Australia) Pty Ltd (HCA), Australia's home for sales and support of Hitachi, Bell and John Deere mining, construction and forestry machinery, today announces the launch of its Solutions Magazine and Parts Insight online.
"Solutions Magazine and Parts Insight are the official quarterly magazines of HCA. Solutions celebrates our most interesting customer success stories from around Australia. The magazine also covers global stories, local HCA news and handy machine specifications," says Amanda Michael, National Marketing Communications Manager at HCA.
"In addition to real stories about people in our industry working their machines on job sites, we also showcase a specific equipment product category, our latest event and sponsorship activities, and introduce a different employee providing a great insight into our people, who are the heart of our machines."
"Parts Insight is a concise and informative insert packed with tips and tricks, a 'did you know?' story, and a feature story providing an inside look at our national parts support capability."
"By combining both magazines digitally, visitors now have an easily accessible information hub with great industry content, which comes soon after the recent launch of the Hitachi Construction Machinery Australia Careers website."
"We encourage people to visit and bookmark the site at http://www.hcasolutions.com.au. The site will be updated regularly with blog content in addition to the regular quarterly releases of the magazines."
Hitachi Construction Machinery (Australia) Pty Ltd, a subsidiary of Hitachi Construction Machinery Co., Ltd (Japan), assembles under one company, a world class group of machinery brands, including Hitachi, Bell and John Deere. The company provides solutions in the areas of machine sales, parts supply, and workshop and field service support delivered across a wholly-owned national branch network.