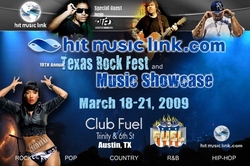 Have you ever wondered how some musicians got so famous?
Los Angeles, CA (PRWEB) February 28, 2009
Music festivals play an important role in the path to success. With SXSW, Texas RockFest and Red Gorilla music festivals on the horizon, music industry innovator Mark Wolfson of Hitmusiclink dot-com offers 10 tips on how to have a successful, career-enriching festival experience. "Have you ever wondered how some musicians got so famous?" Wolfson asks. "Great music is not always created by the best musical technicians. In fact, you don't always have to be the best musician, but you always have to do the better business in order to achieve success."
Become A Better Business Person:
Although deals may happen, your purpose at any event should be to equip yourself with the best tools to become a better, more conscious musician and business person.
Set Goals:
Attending a music festival should be fun. By setting goals, you can mix business with pleasure and still get the job done. Ask yourself what you want and need to accomplish; what types of people you want to connect with; and specific people you hope to meet.
Do Your Homework In Advance:
Start monitoring the festival website in advance to become familiar with the various panels, clinics or seminars offered. Make a list of the panels you want to attend and prioritize them in order of importance. Take into account career related concepts, topics or trends that you've been meaning to learn more about.
Partner Up:
If you are on a solo journey attending a festival, kudos for the courage and strength to follow this road with the entire weight of your musical vision on your shoulders. Post on the message boards at the festival or check in at hitmusiclink.com and other music industry sites to find like-minded artists and industry contacts. Introduce yourself to others and align yourself with other solo participants ahead of time. If you team up and form a "buddy" system, you can cover simultaneously scheduled panels and share notes.
Band University:
If you are a participant at a festival as a group effort, know that teamwork and delegation will be an important part of getting the most out of the festival. Working together for a shared goal exponentially increases the possibilities for your success in reaching the top tiers of the music industry. Festivals can be a highly enlightening and fantastic "Band University" experience.
The only thing that counts more than playing is learning more about the business of playing. Take notes, ask questions and participate. Schedule meeting times with your band and/or buddies during breaks to review notes and discuss your observations or the points made during various panels. Make appointments with mentor(s), attend listening sessions and if possible, attend them as a group.
Take Advantage of the Presentations:
At the festival there will be highly respected and successful musicians, production people, managers, experts in public relations and the Internet actually sitting in a room with you and telling you about the world you want to be part of from their experienced vantage point. As much as every band is at an event to play, the only thing that counts more than playing is learning more about the business of playing. It's important for every player to attend several clinics or panels, even if it is just to validate your knowledge.
You will hear things twice, three times and maybe more, but no one ever made a business mistake by being overly informed. The repetition of information coming from different people, at different times with different angles, provides a well-rounded and broader perspective towards creating a solid path in the music industry.
Participate:
Take notes, ask questions, and participate. Speak in a clear, memorable way. Don't be shy, but don't be a pest. A good listener is a good speaker; a good follower is a good leader. Talk to other musicians, bands, artists and panelists.
Work the Room:
You never know who may be sitting or standing next to you.
Introduce yourself to people and have business cards ready and an ink pen handy. Don't hand out CD's. Instead, take down the contact info and send materials after the festival so you have a reason to contact them for the future. Only give CDs if they decline to give you their contact info.
Share:
There is enough success to go around. You are not in competition with other participants at these festivals or to be more precise, with other artists. You are in competition with yourself to be the best at anything you can be. Be considerate to other bands, share anything you can - everyone has their own unique kernels of knowledge. Give your two cents, and then allow others to do the same. Don't just listen, hear what is being said. No one is below or above anyone else here; we are all in this together.
Be Curious
Turn off your cell phones during panels! You won't be distracted and others won't be annoyed. Be courteous and avoid the negative spotlight.
About Hitmusiclink.com
Hitmusiclink.com is a technologically advanced bundle of services supporting the Business of Music for aspiring and working musicians. This innovative resource offers a built in cycle of income to make careers flourish in an effectual, cost effective and exponential way. The site includes tools for touring, fan management, music supervision, ratings, music downloads and connecting with other music industry professionals such as music supervisors, producers, agents, managers, and other bands.
About Mark Wolfson
In 2008 Mark Wolfson joined Hitmusiclinkdotcom director of production and development. Prior to that, Wolfson spent seven years as director of production and development for Playtone/Epic Records. Originally from Chicago, Wolfson currently divides his time between Los Angeles and New York to accommodate his bicoastal and European clientele. Throughout his impressive career, Wolfson has received over 25 Gold and Platinum record awards. Experienced in piano, cello, guitar, and vocals, Wolfson made his production debut in 1972, working with legendary artists such as Smokey Robinson, Kim Carnes, Ice T, and Talking Heads, and on films including Stop Making Sense, That Thing You Do, Silence of the Lambs, Philadelphia, My Big Fat Greek Wedding, Mamma Mia, and Mi Vida Loca, to name a few.
Wolfson's production company, Reel Entertainment, LLC, has worked independently to develop unsigned bands such as Jane Child, Mighty Joe Young (STP), School of Fish, and Lions and Ghosts and more. Wolfson has been instrumental in helping bands forge a solid career, maintaining the highest production standards with a focus on longevity.
On the philanthropic side, Wolfson has worked with New Directions, a homeless Veterans organization; Tipitina's Foundation, which puts music back in the schools in New Orleans; and America's Wounded Heroes/First Aid, which helps troops with injuries return to civilian life. Wolfson's new music venture will continue to participate in philanthropic activities even more so through Hitmusiclink.com, where the company will set aside a portion of incoming funds as donations to organizations chosen by the subscribers.
# # #