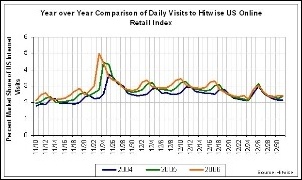 Despite the growing popularity of balanced diets promoted on websites like the Biggest Loser and Jillian Michaels' diet, Internet searchers continue to seek the quick fix
(PRWEB) January 3, 2007
The corrected release reads:
''BIGGEST LOSER'' IS BIGGEST GAINER AMONG ONLINE DIET SITES ON NEW YEAR'S DAY
"South Beach Diet" Remains As Most Searched For Diet
As New Year's Eve revelers shifted their attention to getting healthy on New Year's Day, they turned to the Internet to help with the popular New Year's resolution of losing weight.
Hitwise, the world's leading online competitive intelligence service, today announced that the market share of visits to the top 10 dieting websites increased by 57 percent on January 1, 2007 versus December 31, 2006. The websites showing the largest increases in market share in that one-day period were Biggest Loser Club (http://www.biggestloserclub.com), up 146 percent; eDiets (http://www.ediets.com), up 82 percent; and category leader Weight Watchers (http://www.weightwatchers.com), up 70 percent.
New entrants to the category this year were Jillian Michaels (http://www.jillianmichaels.com) at number 8 and Diabetic Living Diet (diabeticliving.everydayhealth.com) at number 10. Jillian Michaels, a personal trainer featured on the NBC television show "The Biggest Loser," began promoting her own website and diet program in 2006.
"Despite the growing popularity of balanced diets promoted on websites like the Biggest Loser and Jillian Michaels' diet, Internet searchers continue to seek the quick fix," said Bill Tancer, general manager of global research at Hitwise. "Unfortunately, data from past years tells us that online diet interest is fleeting, and should start declining by the second week of January."
Biggest Loser Club and Jillian Michaels diet appeal primarily to females between the ages of 25 and 34. Hitwise demographic data shows that for the four weeks ending December 30, 2006, 69 percent of visitors to the Biggest Loser Club were female, and 81 percent of visitors to Jillian Michaels' website were female. Those aged 25-34 comprised 35 percent visitors Biggest Loser Club and 39 percent of visitors to Jillian Michaels' website. While 25-34 year olds were the largest age group visiting Weight Watchers, at 30 percent, Weight Watchers also had heavy usage from those over age 55, who comprised 19 percent of visitors.
Online Holiday Shopping Update:
Visits Down .9 Percent Last Week to Hitwise Retail 100 Index(1)
-- This week, visits to the websites within the Hitwise US Retail 100 Index were down 0.9 percent for the week ending December 30, 2006 versus the same week last year (December 31, 2005).
-- Amazon.com remained the most visited website within the Index last week, receiving 12.72 percent of visits among the Retail 100 Index. Walmart received the second-most visits with 7.96 percent.
-- The Apple Store (store.apple.com) and HomeDepot.com received the biggest increases in visits from week to week among the top 15 websites with respective increases of 166.7 percent and 26 percent in market share within the Retail 100 Index. BestBuy.com visits increased 12.7 percent week to week and Hallmark.com showed an increase in visits of 12.2 percent.
-- The Apple Store was the fastest moving website among the top 15 websites, jumping 21 spots from 31 to 10.
About Hitwise
Hitwise is the leading online competitive intelligence service. Only Hitwise provides its 1,200 global clients with daily insights on how their customers interact with a broad range of competitive websites, and how their competitors use different tactics to attract online customers.
Since 1997, Hitwise has pioneered a unique, network-based approach to Internet measurement. Through relationships with ISPs around the world, Hitwise's patented methodology captures the anonymous online usage, search, and conversion behavior of 25 million Internet users. This unprecedented volume of Internet usage data is seamlessly integrated into our easy to use, web-based service, designed to help marketers better plan, implement, and report on a range of online marketing programs.
Hitwise is a privately held company headquartered in New York City and operates in the United States, United Kingdom, Australia, New Zealand, Hong Kong, and Singapore. More information about Hitwise is available at http://www.hitwise.com.
For up to date analysis of online trends and statistics, please visit the Hitwise Intelligence Analyst Weblogs at weblogs.hitwise.com and the Hitwise Data Center at http://www.hitwise.com/datacenter.
(1) The Hitwise US Retail 100 Index is comprised of the leading retail websites, but excludes websites from the following categories - auctions, classifieds, computer manufacturers, relationship sales, reward point collecting and home entertainment - music download, DVD and video game rental.